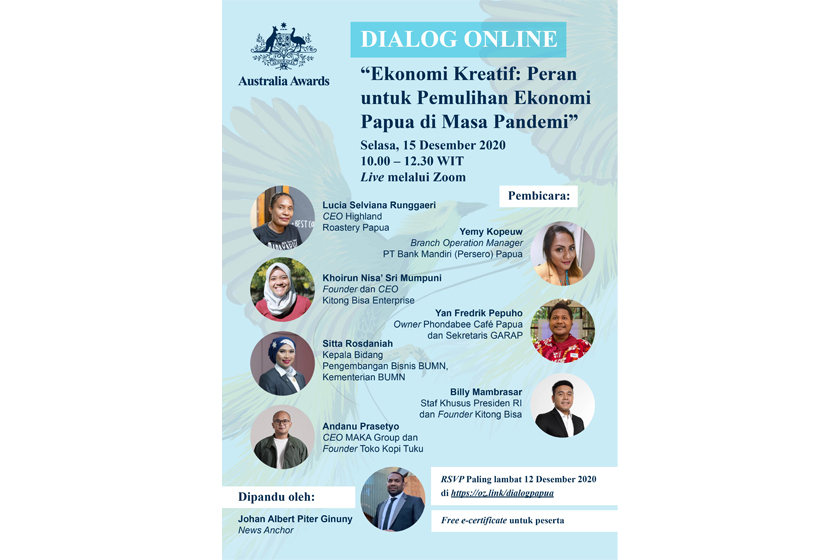 04 Dec 2020
Australia Awards' Online Dialogue "Creative Economy in Boosting Economic Growth During Pandemic in Papua"
Join this online dialogue held by Australia Awards in Indonesia (AAI) on Tuesday, 15 December 2020 at 10:00 AM – 12:30 PM WIT (or 08:00 AM – 10:30 AM Jakarta time).
COVID-19 has led to a dramatic change of human life worldwide and presents an unprecedented challenge to public health. The pandemic brings social and economic disruption to countries all over the world and leads the global economy into a severe contraction. Indonesia, as a country with a heavy reliance on global trade, tourism and commodity exports, is severely impacted. The government claims that creative industries, have created non-conservative jobs during the pandemic and this sector could be the driving force of Indonesia's economic growth going forward.
When most provinces in Indonesia experience negative growth, Papua still have an increase in the economic sector at 4.52%. However, this does not mean that this province do not struggle with the financial impact of COVID-19. Therefore, it is deemed necessary to discuss the significant role of creative industries in this province. AAI will hold an online forum titled "Creative Economy in Boosting Economic Growth During Pandemic in Papua" which will involve many speakers with relevant expertise in this area.
Speakers of the event:
Andanu Prasetyo, CEO of MAKA Group and Founder of Toko Kopi Tuku
Gracia Billy Mambrasar, Special Staff and Adviser of President of Republic of Indonesia and Founder of Kitong Bisa, alumnus of the Australian National University
Khoirun Nisa' Sri Mumpuni, Founder and CEO of Kitong Bisa Enterprise, alumna of Melbourne University
Lucia Selviana Runggaeri, CEO of Highland Roastery Papua, alumna of James Cook University
Sitta Rosdaniah, Head of Division Business Development of all State-owned enterprises, Ministry of State-own Enterprises of the Republic of Indonesia, alumna of the Australian National University
Yan Fredrik Pepuho, Owner of Phondabee Café Papua and Secretary of Gabungan Wirausaha Muda Papua (GARAP)
Yemy Kopeuw, Branch Operation Manager of PT Bank Mandiri (Persero) Papua, alumna of the University of Canberra
The online dialogue will be moderated by Johan Albert Piter Ginuny, news anchor as well as an alumnus of Murdoch University, and there will be a message from the Australian Embassy and Provincial Government of Papua. This event will be conducted in Bahasa Indonesia.
Register here before 12 December 2020.
Share this article on:
---
Related News

Back to Top