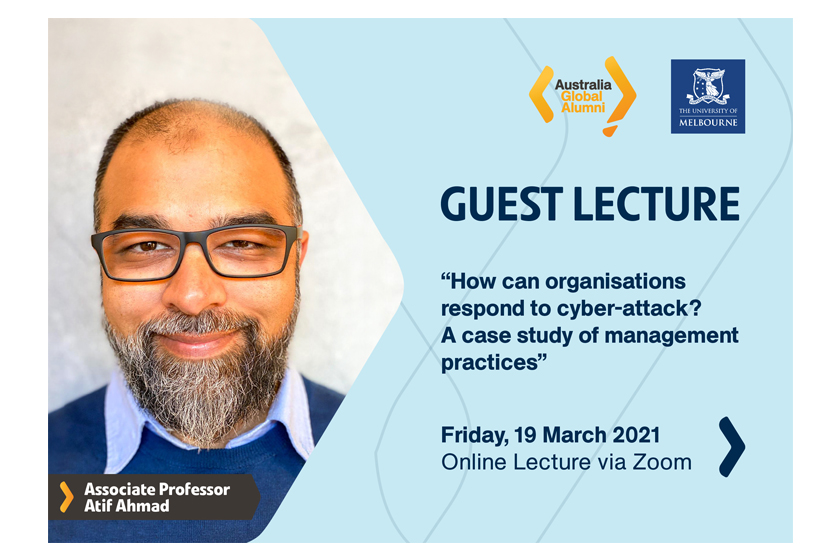 24 Feb 2021
Join us at the Guest Lecture on Cyber-Attack
Do you want to learn how a leading fi­nancial organisation with a mature incident response capability responds to cyber-attacks? Join us at the online lecture "How can organisations respond to cyber-attack? A case study of management practices" featuring Associate Professor Atif Ahmad from the University of Melbourne on 19 March 2021 at 2.00 pm Jakarta time.
Large, high-value organisations are targets for cyber-attacks from organised, sophisticated and persistent attackers. These attacks can disrupt an organisation's IT services and steal sensitive information including intellectual property, trade secrets and customer data. Past research points to situation awareness as critical to effective response. However, most of the research has focused on the technological aspects of responding to cyber-attacks, with less examination of how organisations managed the incident response process. In this lecture, Associate Professor Atif Ahmad will give a case study of the management practices behind a cyber-attack response.
Graduates of Australian tertiary institutions from Indonesia who are interested in attending this event, please register yourself by 17 March 2021 to this link. Click here to get more information about the lecture and Associate Professor Atif Ahmad.
Share this article on:
---
Related News

Back to Top