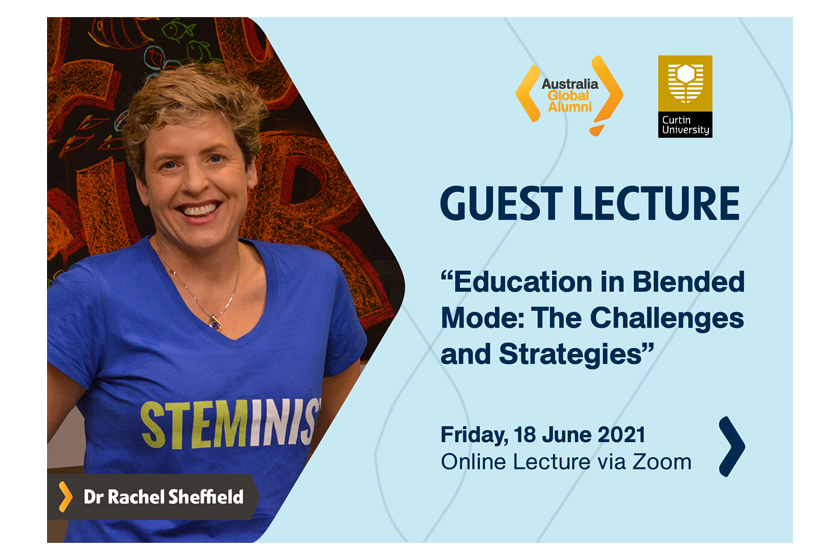 05 Jun 2021
Join us in the Guest Lecture on Education in Blended Mode: The Challenges and Strategies
Join us in the online lecture on "Education in Blended Mode: The Challenges and Strategies" featuring Dr Rachel Sheffield from Curtin University on 18 June 2021 at 2.00 pm Jakarta time.
University educators have been demonstrating their agility and creativity as they seek to remain connected to their students throughout the past 18 months of mixed learning. Universities have moved to online learning, returned to face-to-face classes and then reverted to online learning as the world has experienced repeated waves of COVID-19 and lockdown measures.
This lecture considers the reconfiguring of university learning and what skills and strategies are currently being used by innovative and creative educators. It considers how blended learning can be more engaging and interactive and examines some of the challenges that educators worldwide are experiencing and how to mitigate these. Finally, the lecture also considers the future of education, examining the characteristics of 'Education 4.0' and what this may look like.
The e-certificate for participation is available. If you are interested in attending this event, please register yourself by 16 June to this link. Click here to get more information about the lecture and Dr Rachel Sheffield.
Share this article on:
---
Related News

Back to Top