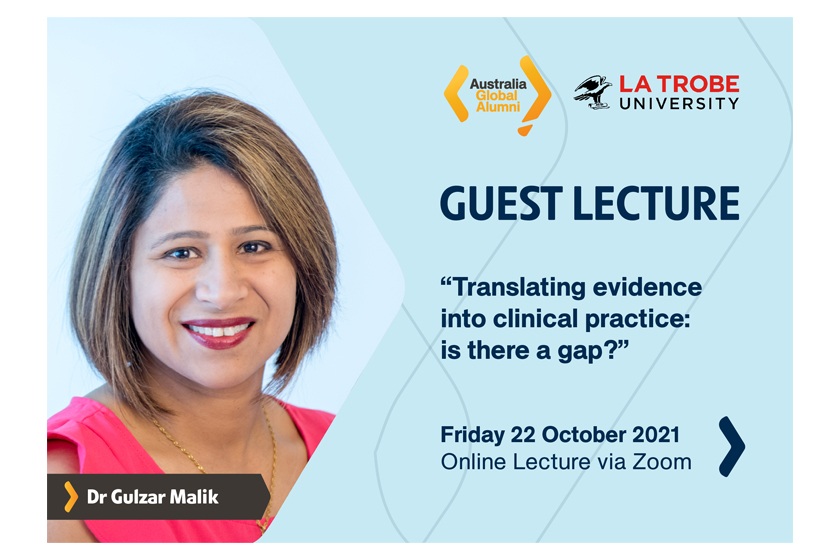 08 Oct 2021
Let's Join Our Online Lecture on "Translating evidence into clinical practice: is there a gap?"
If you are a health professional and interested in knowing how to translate evidence into clinical practice, then this lecture is for you. Let's join our lecture on "Translating evidence into clinical practice: is there a gap?" that will feature Dr Gulzar Malik from La Trobe University, Australia, and will be held virtually via Zoom on 22 October at 2.00 pm Jakarta time.
Evidence-based practice (EBP) is paramount to achieving the highest quality patient care outcomes. Numerous studies have found that improved health, decreased morbidity and cost-effective outcomes result from patient care based in evidence. EBP is a framework for clinical practice that incorporates the best available scientific evidence with the expertise of the clinician and the preferences of the patient when making healthcare decisions.
Fostering an EBP culture is essential to delivering cost-effective healthcare. However, implementing evidence into practice is a complex process that involves an array of organisational, social and professional barriers. Common barriers to EBP include insufficient resources, a shortage of healthcare professionals trained in EBP, a lack of time and limited support from organisations. There is a need for educational institutions and healthcare settings to employ strategies to support successful EBP translation. These could include making EBP an integral part of the curriculum, preparing healthcare professionals to be evidence-based practitioners, creating academia-practice partnerships, and providing sufficient resources within clinical settings.
In the lecture, Dr Gulzar Malik will be exploring EBP in healthcare settings, facilitators and barriers to EBP translation, and useful strategies to its implementation, including examples from healthcare settings during the COVID-19 pandemic.
The e-certificate for participation is available. If you are interested in attending this event, please register yourself by 20 October to this link. Click here to get more information about the lecture and Dr Gulzar Malik.
Share this article on:
---
Related News

Back to Top