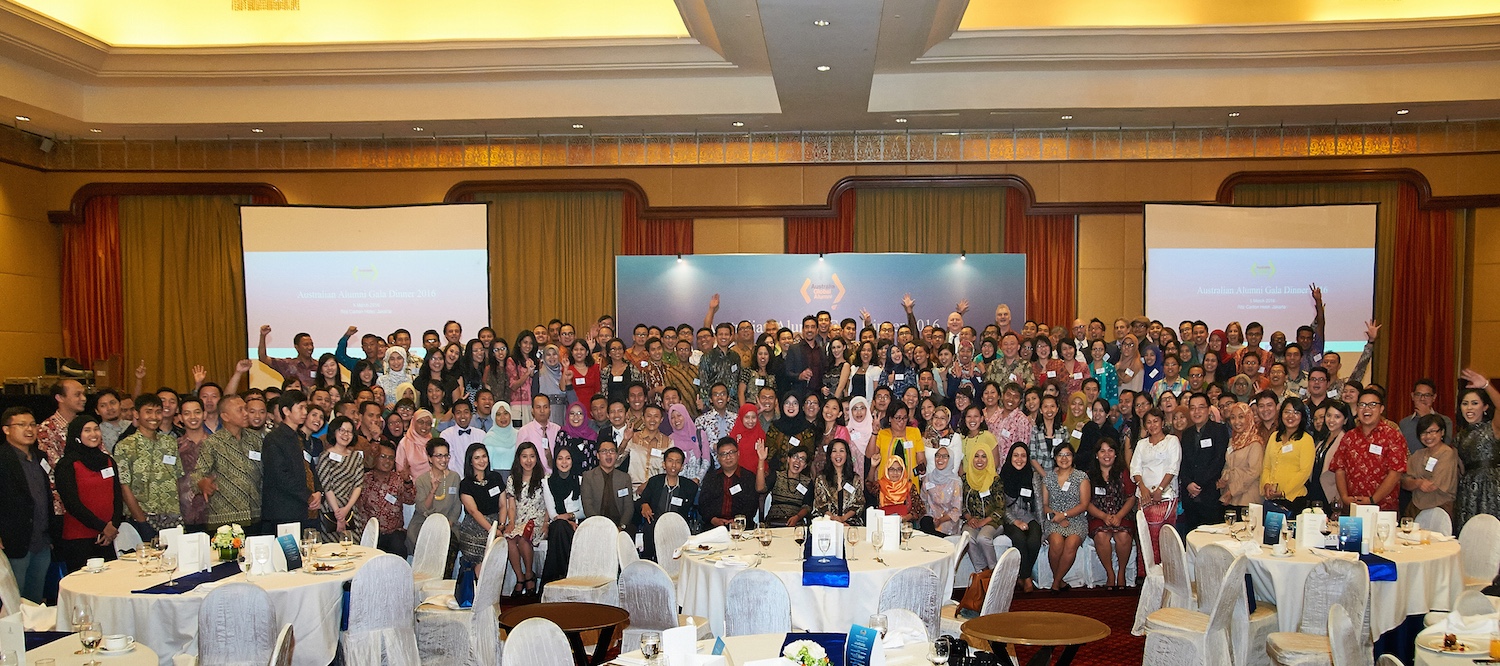 06 Mar 2016
Australian Alumni in Indonesia Celebrate Recent Graduates at Gala Dinner
More than 300 recently graduated alumni gathered for the Australian Alumni Gala Dinner at the Ritz-Carlton Hotel in Jakarta on 5 March.
The evening provided an opportunity for alumni to reconnect with their alma mater, make new connections, hear from inspiring alumni, and enjoy great food and entertainment.
The 2016 Gala featured distinguished Australian alumnus, Noni Purnomo, President Director of Blue Bird Group and Blue Bird Peduli, the company's charitable division. Purnomo received her industrial engineering degree at the University of Newcastle in 1994.
In an ever-changing market and world, Purnomo said it is more important than ever to stay current, to remain eager to learn, and to consider ways to give back. "We're all here together to network, to get to know each other, because we as one person always have strengths and weaknesses, and together we can make the world a better place. We always need to learn and strive to be better," Purnomo said.
"Indonesia and Australia are so close, we have a lot of trade, geographically we are very close and we have a lot of people movement. My wish is that all of us can contribute so that we can enhance the relationship we have between Australia and Indonesia further in the future. You are privileged, so the question is: what are you going to give back to society?"
Paul Grigson, Australian Ambassador to Indonesia, hosted the event as part of the Australian Embassy's commitment to expanded alumni engagement. The evening also marked the soft launching of the Australia – Indonesia Alumni Forum on LinkedIn, an exclusive group that allows alumni to expand their professional network, and access job opportunities, academic journals, guest lectures and events.
Guests were entertained by Australian alumnus and anchor Tommy Tjokro and award winning VJ Jamie Aditya, who shared their fond Australian memories as guests viewed slides of dozens of alumnus' favourite moments there.
Brianna Simorangkir, one of Indonesia's promising musicians, and Rendy Pandugo, dubbed Indonesia's John Mayer, delighted guests with outstanding performances. Alumni took to social media to share their experiences on the night, hailing it one of the best gatherings they had ever attended.
Share this article on:
---
Related News

Back to Top