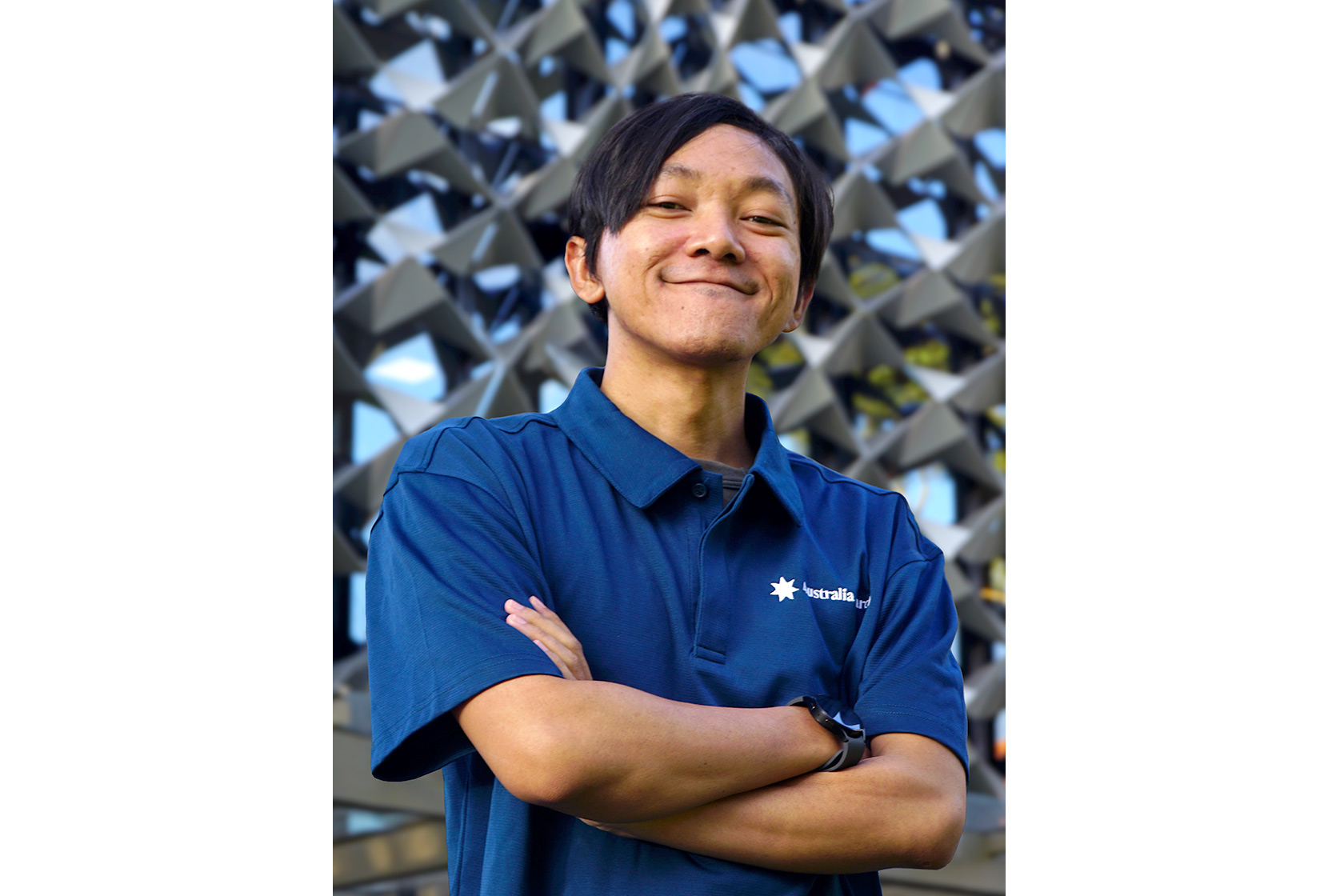 19 Apr 2023
Andika Budi Hermawan Hopes to Use Data Science to Improve Weather Forecasting
The violent eruption of Mount Merapi in October 2010 encouraged Andika Budi Hermawan, an Australia Awards scholar, to pursue a career as a meteorologist.
Andika was in his second year of high school when Merapi erupted, killing hundreds of people. He and his family lived within 15 kilometres of Merapi's danger zone and were evacuated to a shelter.
The choking volcanic ash from Merapi's eruptions blanketed his hometown of Yogyakarta, disrupting activities and posing a health risk for weeks. Yogyakarta's residents and businesses relied on daily volcanic ash shower information broadcasted by the Meteorology, Climatology, and Geophysics Agency (BMKG) before going outdoors.
"BMKG's information was useful because volcanic ash is hazardous to humans due to the presence of mineral and rock particles. It is also dangerous for aeroplanes," said Andika, who is pursuing a Master of Data Science at Monash University.
"That was my first introduction to BMKG and weather forecasting."
As if by fate, Andika's teacher gave a presentation about the State College of Meteorology, Climatology, and Geophysics (Sekolah Tinggi Meteorologi, Klimatologi, dan Geofisika/STMKG). STMKG offers work at BMKG after graduation. After graduating from high school in 2012, he applied to STMKG and spent over five years studying to become a meteorologist.
"I was curious about how weather can change so quickly. I've always been fascinated by nature," said the 28-year-old.
Improving Data Science Skills
Following his graduation in 2017, Andika was posted to BMKG headquarters in Jakarta, although not as a weather forecaster. Instead, he was in charge of distributing weather information to the broader public. He converted advanced and complicated meteorological data into simple information and published it in videos or infographics on BMKG's Instagram and YouTube accounts.
In addition to public information duties, Andika processed and analysed meteorological data sought by businesses such as insurance, mining, and energy. Companies use weather information for their operations. For example, insurance companies require weather data to handle claims resulting from weather-related disasters such as floods or heavy rains.
Andika and his colleagues also provided weather information for special events that required highly accurate weather forecasts, such as the Mandalika MotoGP tournament in March and the Formula E race in June 2022.
When processing and analysing data, it was a challenge to gather information from a variety of sources, including satellites, radars, weather stations, and surface weather observation.
"Sometimes the data is scattered, diverse and numerous," explained Andika. "Each type of data has a unique format, and I had to convert these various data sets into a single structure to process them. This is a time-consuming and difficult process because I had to sort the raw data one by one before processing them."
Andika decided to study data science after being accepted for an Australia Awards Scholarship in 2022 to overcome the challenges in data processing.
"I taught myself data processing. I'm curious if learning data science will help me improve my skills," he said.
Interactive Learning
Andika has now been in Australia for three months and is enjoying the interactive learning environment there. The flipped learning style at Monash University, in which students must read materials before attending classes, contrasts sharply with the traditional one-way learning direction he experienced at the meteorology college.
"With flipped learning, we come to class prepared with a few questions to ask the teacher. It is not at all like my previous school, where students can only study from worksheets provided by teachers. But this could be because the meteorology college is a semi-military school," he noted.
Despite the differences in learning styles, Andika is adjusting well, which he attributed to the pre-departure training.
"During the two-month pre-departure training in Bali, I met other recipients of the Australia Awards Scholarship, and we flew to Australia together. The training and new friends I met helped me adjust to the new learning and living styles," he explained.
Integrated weather data centre
Having struggled with data collection, Andika hopes to use his data science skill to make it easier for forecasters to analyse weather data when he returns to Indonesia.
"I want to build a data centre that will help with data management because we currently take data from various sources," he said.
Andika also wants to build weather modelling that is suitable for weather forecasting in tropical countries.
According to Andika, current weather modelling is developed by subtropical countries such as the United States and European countries. While subtropical-based weather modelling can still be employed in tropical nations such as Indonesia, it is less accurate due to more complicated elements.
Andika explained that humidity and wind patterns are the key elements to forecasting the weather. In sub-tropical countries, forecasters can easily determine wind patterns by measuring the air pressure, which keeps changing due to seasonality. In contrast, air pressure tends to be constant in tropical locations where the sun shines all year. As a result, air pressure patterns cannot be used to forecast weather in tropical locations.
Furthermore, an archipelago like Indonesia presents geographical challenges for weather forecasting.
"We have a unique landscape that ranges from mountainous to flat lands, complicating weather forecasting. We can continue to use weather and atmospheric modellings from subtropical countries, but they are less accurate," explained Andika.
"I want Indonesia to be a pioneer in developing a standard for tropical weather modelling."
Share this article on:
Related Article

Back to Top