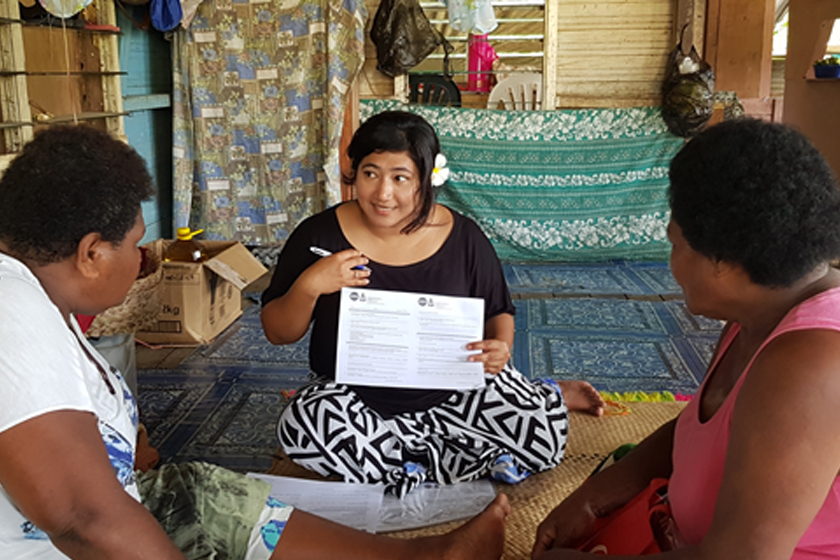 12 Mar 2018
Getting to the Heart of Microfinance in Fiji
As part of a Professional Internship offered at Monash University, Master of International Development Practice student and Australia Awards scholar Andi Azka Faurianthi Poetri from Bogor West Java, travelled to Fiji in January 2018 to complete a four week internship with South Pacific Business Development (SPBD).
Working through their network of microfinance institutions in Fiji, Samoa, Tonga and Solomon Islands, SPBD aims to eradicate poverty by empowering women in poor rural villages to start, grow and maintain sustainable, income-generating micro-enterprises, build assets, as well as finance home improvements and childhood education.
The opportunity to participate in this internship was made possible through SEED a Monash University club that exists to create social impact and economic opportunities through avenues of financial inclusion such as social enterprise and microfinance.
Andi alongside a team of four other Monash students conducted over 400 members satisfaction surveys and a focus group discussion in the four week period abroad. Visiting each of SPBD Fiji's branches the across the main islands the team were able to speak to members from the following areas; Suva, Savusavu, Taveuni, Labasa, Rakiraki, Sigatoa and Lautoka.
Apart from the physical challenges conducting interviews presented such as the constant high humidity and limited transport options between locations, Andi had lots of positives to report. Meeting amazing women who are the backbone of communities who play an important role in maintaining the economic and social fabric of their societies is an experience Andi won't forget. Of equal impact was the celebration of life by the women Andi and the team met and the extending of the hand of friendship to her and fellow team members.
Microfinance is itself a controversial development phenomenon which has its supporters and critics but Andi is determined to find out more about how microfinance can best assist under-privelidge communities to escape poverty. Asked whether she would recommend this sort of internship to other students studying a Master of International Development Practice, Andi is adamant that this life-changing experience makes the study totally relevant and if an opportunity like this comes along for other students – students should 'grab it with both hands!'
Share this article on:
Related Article

Back to Top