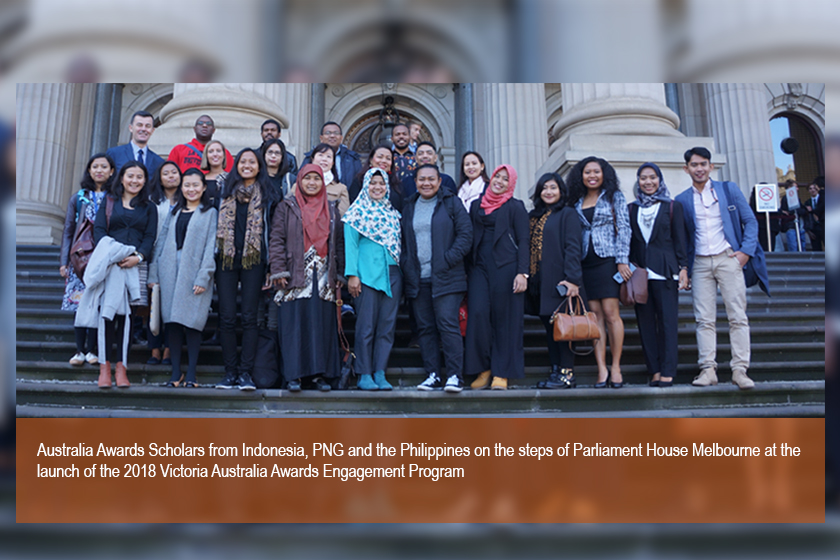 08 May 2018
Launch of the 2018 Victoria Australia Awards Engagement Program
Australia Awards Scholars from Indonesia, Philippines and PNG recently attended the launch of the 2018 Victoria Australia Awards Engagement Program. Returning for a second year, the Program delivered through the resources of the Victorian Department of Premier and Cabinet, introduces Scholars to the workings of State Government including services delivered and special projects.
At the launch on 8 May, Scholars participated in a guided tour of the Victorian Parliament before attending an official launch of the Program opened by Susan Coles, DFAT Deputy State Director (Victoria). Speakers at the launch included Jordan Wren on 'How Government Works in Australia', Dr Marion Freer on Victoria's Gender Equality Strategy and Josh Smith from Aboriginal Victoria.
The 2018 Victoria Australia Awards Engagement Program runs through to the end of October 2018 and consists of monthly half day seminars. In conjunction with the Program, the Victorian Government runs a 'buddy program' for interested participants from the Engagement Program. The Buddy Program matches participants with Victorian Government counterparts and follows a very successful similar program in 2017.
Programs delivered by State Governments for Australia Awards Scholars are now operating in Western Australia, Victoria, NSW and Queensland. Initiated through Australia Awards in Indonesia, the Programs also invite representation from other Australia Awards programs.
Share this article on:
Related Article

Back to Top