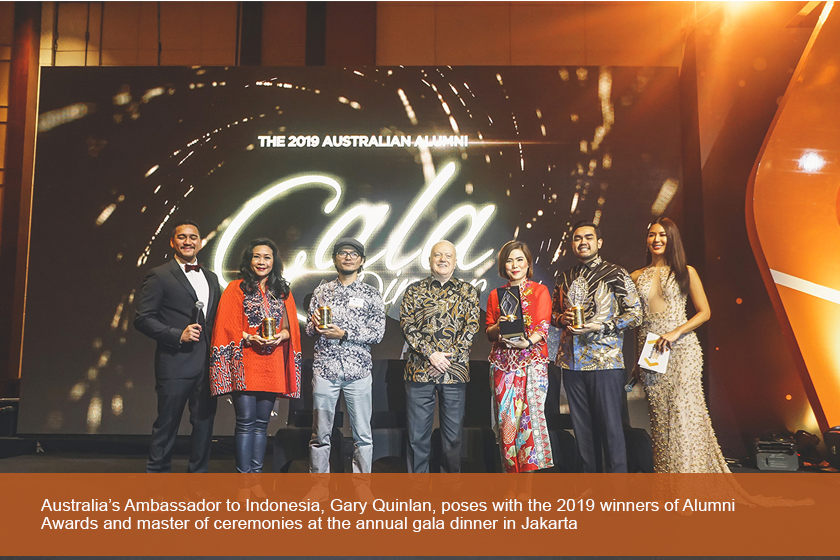 14 Jun 2019
Highlights of the 2019 Australian Alumni Gala Dinner
The Australian Embassy hosted its annual alumni gala dinner on the eve of the 2019 Alumni Awards winners announcement– a fitting day for such celebration. Over 800 alumni and friends attended the vibrant dinner on Saturday, 27 April 2019, at which Australia's Ambassador to Indonesia, Gary Quinlan, emphasised the importance of alumni network to the region's development and proudly announced the 2019 Alumni Awards winners.
Noni Purnomo of Bluebird Group, a University of Newcastle alumni, won the 2019 Alumni of the Year, for her work as a philanthropist and Bluebird Group entrepreneur in a male-dominated field: the taxi industry. Innovation and Entrepreneurship Award was given to Irfan Amalee who participated in both an Australian Awards counter terrorism Short Term Award and the Australia Indonesia Muslim Exchange Program. Amalee is founder of Peace Generation, a non-profit organisation which promotes tolerance to young people.
Queensland University of Technology alumni of Short Term Award for technology-enabled start-ups, Rorian Pratyaksa, won the Outstanding Young Alumni Award. His work in disruptive technology helps transform the economic future of the country. The Promoting Women's Empowerment Award went Nilamsari Sahadewa, an alumna of Griffith University and founder of Kebab Turki Baba Rafi – arguably the biggest kebab chain in the world. Nilamsari's work in the Womenpreneur Group empowers women financially through addressing issues that often face women who are starting out in business. Now, it is also helping women living with domestic violence.
That evening, Iwan Sunito, co-founder and CEO Development of Crown Group and University of New South Wales alumni, in his keynote speech shared his story from his humble beginnings in Pangkalan Bun, Kalimantan, to becoming an international property magnate. Guests were also entertained by Indonesia's pop star Isyana Sarasvati.
Here are some highlights of the 2019 Gala Dinner:
Share this article on:
Related Article

Back to Top