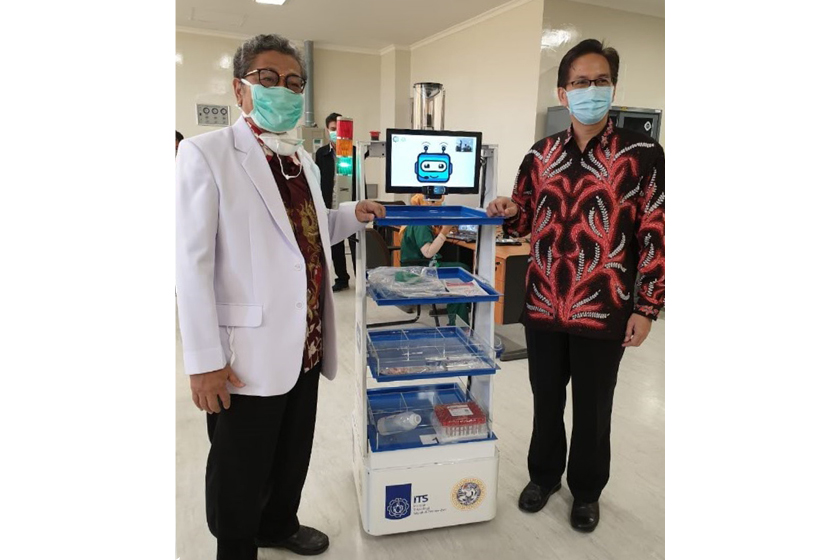 01 Jul 2020
'RAISA': Robot Nurse Assists Medical Workers to Treat Covid-19 Patients Remotely
The new Coronavirus pandemic has caused an unprecedented global shortage of personal protective equipment (PPE). In the first weeks of the pandemic, the shortage was so acute that doctors and nurses resorted to wearing makeshift protective gear, such as thin plastic raincoats, swimming goggles, and even motorcycle helmets.
The lack of life-saving protective equipment has taken a toll on health workers on the frontline of the virus response. According to the Indonesian Doctors Association as of 23 June, as many as 68 health workers – including doctors and nurses - have died of COVID-19, while dozens of them have been infected.
To help protect health workers amid this shortage of PPE, robots have emerged as a solution. Robots, unlike human nurses, do not need to use masks or hazmat suits and certainly cannot be infected by the highly contagious virus.
The number of fatalities linked to COVID-19 in Indonesia continues to rise amid plans by the central government to gradually ease restrictions ahead of the so-called "new normal." As of 30 June, Indonesia reported total number of COVID-19 cases to 56,385, and 2,876 people have died from the virus- the highest in Southeast Asia.
In Surabaya, East Java, a joint team from the Institut Teknologi Sepuluh Nopember (ITS) and Airlangga University Hospital has successfully developed a medical assistant robot. Named RAISA, which stands for Robot Medical Assistant ITS – Airlangga, the robot helps to minimise direct contact between medical personnel and COVID-19 patients.
Operated with a joystick and with a blue smiley robotic face, the 1.5-metre tall RAISA has four trays to carry medicine, food, clothes, or other equipment to patients who are being treated in isolation units, such as intensive care units and high care units. This will reduce the frequency of direct contact between medical workers and patients and subsequently lower the risk of infection for health workers.
"The robot is equipped with a multimedia 14-inch monitor for two-way communication between operator and patient," said Professor Mochamad Ashari, the ITS rector who graduated with a Masters and PhD from Curtin University in 1997 and 2001.
Reducing direct human contact with patients means hospitals can save valuable PPE supplies. Having robot nurses also allows doctors to attend to other patients who need urgent care.
The ITS team is now working on developing an advanced version of RAISA which will be equipped with intelligent camera thermal sensors and the ability to take heartbeat, oxygen saturation and other measurements.
"The software and technology have already been developed by ITS, and are ready to use," said Professor Ashari. "When RAISA comes to the patient, it does not need a thermometer and direct contact with the patient's body, but the patient's temperature can be directly displayed on the monitor."
Two robots have been delivered to University Airlangga Hospital, one of the referral hospitals for COVID-19 in East Java, Professor Ashari said.
"East Java provincial administration has agreed to support RAISA to be used in other hospitals. However, in emergency conditions like this, limited funds become a challenge for any institution," he added.
RAISA is just one ITS initiative to help communities and health workers fighting the COVID-19 pandemic. Professor Ashari, who has been rector at ITS since January 2019, has formed a COVID-19 taskforce on campus, with four teams leading the production of medical equipment. There is a hand sanitiser and sterilised chamber production team, face shield production team, ventilator development and production team, and a service robot development and production team.
"We have organised all ITS resources to confront the COVID-19 pandemic all in, and help medical personnel who are working with a shortage of equipment," said the 54-year old scholar, who completed an electrical engineering degree at ITS in 1989.
As students learned from home due to COVID-19, empty classrooms at ITS were turned into workshops that churned out face shields and gallons of hand sanitiser.
The campus's spacious robotics hall, which is often used for lectures, became a hand sanitiser factory. With an outpouring of donations from chemical producers, ITS made five-litre bottles of hand sanitiser, which were distributed to communities and health facilities.
Dr Imam Baihaqi, the Dean of the Faculty of Creative Design and Digital Business, led the production of face shields. In a video posted on Professor Ashari's blog, packages of face shields filled a classroom, ready to be shipped. Students and volunteers were seen busily assembling the face shields while a pop song played in the background.
The classroom factories at ITS had made 40,000 face shields and 2,500 litres of hand sanitiser as of April 2020. Both essential health supplies have been donated to hospitals and health facilities nationwide.
"What makes my heart swell with pride is seeing colleagues, students, and staff working with zeal and passion," wrote Professor Ashari in his blog.
Share this article on:
Related Article

Back to Top