04 Mar 2022
Johanna Audrey Leatemia Empowers Women and Young People Through Hydroponic Farming
Johanna Audrey Leatemia believes that hydroponics is an excellent method to get the young generation, particularly women, interested in agriculture and to promote the many advantages of growing your own food.
With funding from the Australian Government through the Australia Awards in Indonesia-administered Alumni Grant Scheme, Audrey started a project to train women in a community group called "Dasa Wisma" in Ambon City to plant vegetables using hydroponics.
"Many young individuals are not interested in farming because they do not want to get their hands dirty digging through soil," said Audrey.
"Because hydroponics does not require dirt, I refer to it as millennial farming. 'You can plant veggies without damaging your nail polish,' I tell young people all the time.
"I think it's important to promote hydroponics among young people because we will always need food."
Hydroponic farming has various advantages compared to conventional farming systems, including the ability to fit into a small piece of land. Vegetables or fruits can be grown in the back or front yard using the hydroponic technique.
In addition, plants grown using the hydroponic technique have a shorter planting period, higher yield and better quality without using pesticides. Therefore, hydroponics can provide a family or a community with a steady source of healthy food and income from their own home.
Hydroponic farming is also one solution to meet the increasing need for fresh and healthy vegetables in Ambon City, Audrey's hometown, where farming land is limited. Although Ambon City is the largest city in Maluku, it only covers a land area of 359.4 square kilometres, which is slightly larger than the Maldives.
Furthermore, as in many other Indonesian cities, fewer young people in Ambon City choose to work in agriculture because it is considered arduous and low-paying. As a result, between 2003 and 2013, the number of farmers in Indonesia fell by 5.1 million per year, bringing the total number of farmers to 26 million, according to Statistics Indonesia (BPS).
When Audrey and her colleagues at Pattimura University's Faculty of Agriculture in Ambon City needed to develop a program to empower the community, hydroponic farming was the obvious choice.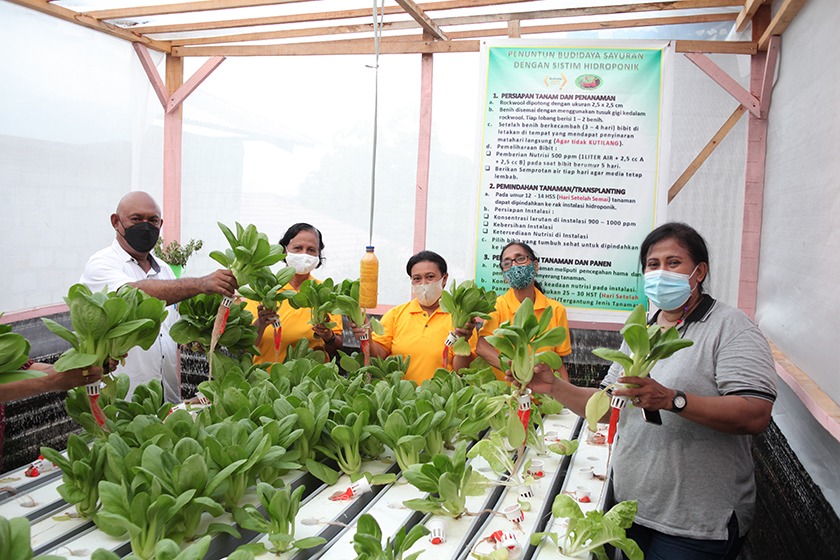 Growing fresh and healthy produce
In September 2020, Audrey started the "Dasa Wisma" project in Soya village. The group had already grown vegetables using hydroponic farming, but on a small scale, using 20 - 25 plant holes.
The project used a medium-scale hydroponic system that combined Nutrient Film Techniques (NFT) and Deep Flow Techniques (DFT) with one set of 200 plant holes to assist women in improving their knowledge and skills in producing fresh and healthy vegetables.
There were 20 participants in the project; some were young women. They were split into two "Dasa Wisma" groups of 10 people. Each group got two sets of DFT installation units. First, the participants received an introductory course on hydroponics and ten training sessions during the four-month project, which ran from September 2020 to January 2021.
"They practised from preparing the planting media, the nutrition, and planting the vegetables, including preparing the hydroponic house plastic shed," said Audrey, who earned a Bachelor's degree from the Bogor Agriculture Institute in West Java in 1987.
Audrey also shared her knowledge on killing insect pests in plants without harmful pesticides. Pest control was her research area when she attended the University of Adelaide from 2009 to 2010 through the Australian Government-funded Endeavour Research Fellowship.
The groups planted vegetables such as mustard and lettuce. Since the start of the project, the groups have had ten harvests. Participants kept some harvest for their families, while the remainder was given to community officials and relatives.
Empowering women and marginalised groups
The initiative did not end with hydroponic farming training. It also included agribusiness training, which allowed community groups to start their businesses. As a result, the project has helped improve women's ability to become economically productive.
"They learned how to pack their produce for marketing, make a promotion on social media, and design their packing label," said Audrey, who graduated with a Master's degree in environmental biology from the University of Guelph in Canada in 1994, followed by a PhD in plant science from the University of British Columbia in 2003.
Even after the project has finished, the participants continue their hydroponic farming and promote their products in a WhatsApp group and social media. Audrey is helping the groups to expand their sales to supermarkets in the city.
While the project does not exclusively aim to empower women, the hydroponics training helps women in the community groups get new knowledge, skills, and income.
"Stay-at-home mothers who did not have other activities in the past, now they have hydroponic farming skills and they can sell the produce. Hopefully, it can boost their confidence," said Audrey.
Audrey is planning to apply for the Alumni Grant Scheme again this year to roll out similar hydroponics training targeting women in marginalised groups, such as rubbish pickers, parking attendants, and street sweepers. The follow-on project will target Urimesing Village in Ambon City.
The target groups in Urimesing have a joint business of leasing chairs and tents for events. The business was part of economic empowerment and community welfare program called KUBE. However, the COVID-19 pandemic, which prohibited meetings, has significantly impacted the business.
"We thought that the hydroponic project at Soya village could be replicated in Urimesing," Audrey said. "It can give the community steady income, or at the very least, they can have the vegetables for family consumption."
Photos courtesy of Johanna Audrey Leatemia.
Share this article on:
Related Article

Back to Top