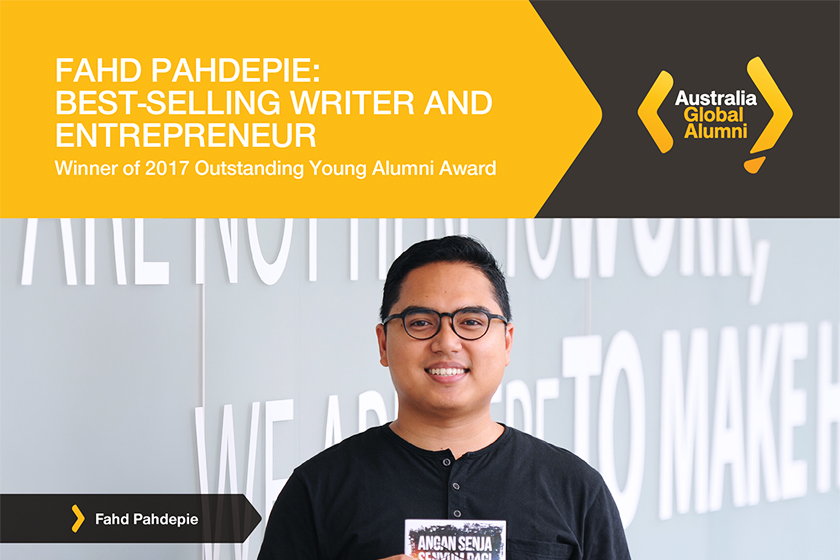 18 Mar 2017
Fahd Pahdepie: Winner of 2017 Outstanding Young Alumni Award
Best-selling Writer and Entrepreneur
In between churning out 18 books, the last five of which are bestsellers, Fahd Pahdepie is busy running several businesses, including a digital communication consultancy, an internet start-up, a café and a barbershop.
"While my educational background is international relations, the creative industry and entrepreneurship are my passions," the 30-year-old winner of Outstanding Young Alumni said.
Fahd gained new perspectives in entrepreneurship after taking a Media Empires and Entrepreneurs course in 2014, while studying for a master's degree at Monash University in Australia on an Australia Awards scholarship.
"I had always been interested in being an entrepreneur but didn't really know what to do," he said. "The course was an eye opener."
In 2013, he founded Inspirasi.co with a business partner to provide an online platform for aspiring writers, videographers, photographers and graphic designers to showcase their projects and build networks.
"My goal is for people from across the country to not just create, but also get economic value from their creative work," he said.
Two years later, he and his team set up Digitroops Indonesia, an agency that provides strategic social media services for government institutions, politicians, political parties and companies.
Fahd was born in Cianjur, West Java, to a devout Muslim family. His father, a university professor, sent him to an Islamic boarding school, and he went on to study international relations at Yogyakarta Muhammadiyah University.
Fahd's first book, Kucing (Cat), was published in 2004 under the pseudonym Fahd Djibran. His last five books are romance novels.
"I must admit romance is a popular genre, but I also address the issues of diversity and equality as a recurring theme in my books," he said.
"When I talk about patriarchy in our society, I try to be subtle in my messages and not to be judgmental or preachy."
His new novel, Angan Senja Senyum Pagi (Twilight Reverie, Morning Smile), has hit book stores on March 15 and 6,000 copies have been pre-ordered.
Fahd also uses creative industries to prevent youth from being lured into extremism.
"If I can soften people's hearts with my works, videos or music that's what I will do, to build a counter-narrative to extremism," he said.
"If we want to be successful in deradicalisation, we must invest more in the creative industry."
Meanwhile, Inspirasi.co now has more than 46,000 members, and is partnering with Indonesia's largest production house to establish Creative Academy, a talent scouting agency.
Fahd has received various awards for his work. As an author he won Mizan Unlimited Creativity Award and selected as one of the best among 10 writers in UNICEF Young Writer Award.
In 2009, he was nominated for the Extraordinary Intellectual Property Award from the Ministry of Education and Culture. A year later, he received Ahmad Wahib Award for his work on promoting interfaith dialogue and pluralism from the Paramadina Foundation and Hivos Foundation.
Fahd is part of a new generation building bridges between Indonesia and Australia. In 2011, he joined the Indonesia-Australia Muslim Exchange Program, where he met religious leaders and communities and experienced Australia's multicultural diversity, and four years ago he represented Indonesia at the Australia-ASEAN Emerging Leaders Program (A2ELP).
"I don't do things to win awards, but I'm grateful that people appreciate what I do," he said.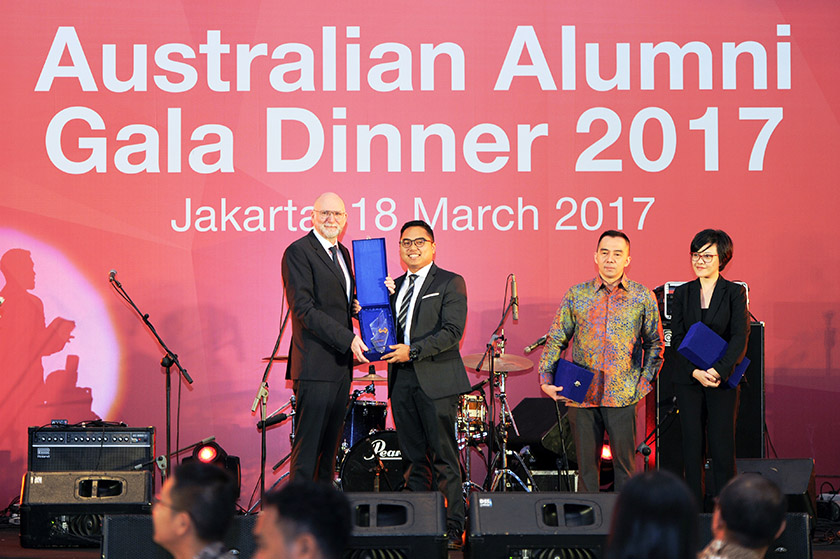 Share this article on:
Related Article

Back to Top