12 Feb 2018
Inclusion Matters: Empowering Indonesia's Leaders and Embracing Accessibility in Australia
A group of 20 leaders from Disabled People's Organisations (DPOs) across Indonesia visited Australia to participate in a two-week leadership short course, run by the Sydney Southeast Asia Centre at the University of Sydney earlier in 2018. The course, funded by Department of Foreign Affairs and Trade and managed by Australia Awards in Indonesia, aims to equip participants to strengthen management, communication and key disability advocacy skills they can use in their roles effectively.
In addition to honing their leadership, organisational management and advocacy skills, they had an opportunity to engage with Australian disability activists and navigate the city, gaining new perspectives on the meaning of accessibility and inclusion for people with disabilities.
During their two weeks in Sydney, the participants visited the Australian Museum, Government House, the Museum of Contemporary Art and the Sydney Cricket Ground. They also watched the GIO Oz Day 10k Wheelchair Race on Australia Day, experience d a harbour cruise and took a trip to the Wild Life Sydney Zoo.
Those with limited physical mobility were provided with electronic wheelchairs for the duration of the course, allowing them to travel independently for much longer distances than would be possible at home. Assistive devices were also made available to those with vision impairments.
The accessibility of the city was striking for all the participants, as was the attitude of Sydney-siders to people with disabilities. Participants, including Syafruddin Syam, the Chairperson and Founder of the Independent Movement of the Differently Abled, felt small gestures go a long way.
"I felt safe, because in addition to being accessible, people really cared and quickly apologised if they accidentally blocked my way. These things may seem simple to others, but for me it was really amazing and an experience that I will be bringing back to my province to share with others."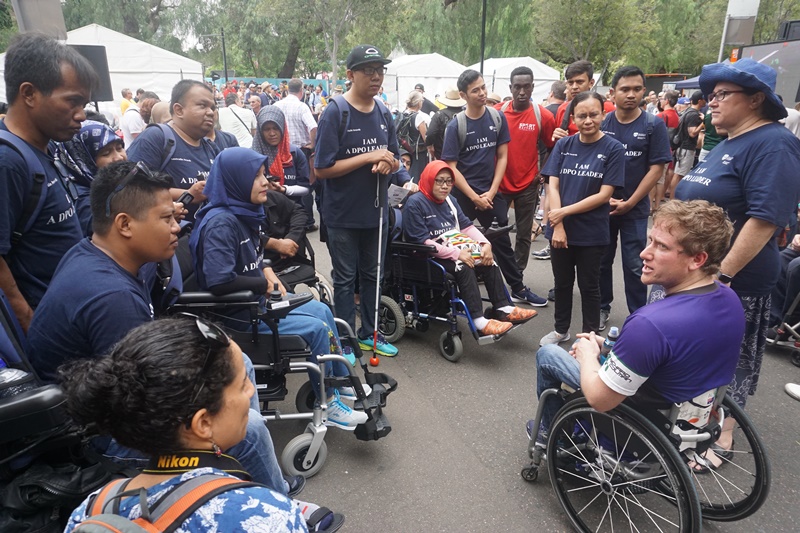 Inclusion of Everyone
As part of their coursework, participants were invited to reflect on how different aspects of their identity affected their experience of disability. To help them do so, they met with a number of people with multiple minority identities.
Dr Sheelagh Daniels-Mayes, an academic from the University of Sydney, delivered a powerful message that resonated deeply with the group. In sharing her story about overcoming the discrimination she faced as someone with multiple minority identities – being a woman, living with a vision impairment and being an Indigenous person – she challenged participants to think about how to ensure that all members of their own communities were included and supported to succeed.
This element of the course helped a number of participants to start thinking about the idea of inclusion as extending beyond their organisations. As Fatum Ade, Field Coordinator for SAPDA (Women, Differently-Abled and Children Advocacy Centre Foundation) in Banjarmasin, Kalimantan said: "One thing I learnt from Dr Sheelagh was to think about issues related to our humanity together, rather than separating our different personal identity struggles into 'sectors' … because inclusion is not something that belongs to one identity alone."
Learning from Each Other
While traveling through Sydney and meeting the activists from Australia were key sources of learning for the participants, some of the most significant changes in their understanding about accessibility and inclusion came from the experience of traveling and working together.
All but three of the participants live with some form of disability, which meant that at times, most received support from other members of the group. They were also required to think constantly of others. In class, they had to remember, and remind each other, how to communicate so that everyone could participate. Outside of the classroom, they had to assist each other navigate Sydney's busy streets.
During the final week of the program, they were required to develop a pitch for a fictitious grant program, to develop practical skills in public speaking. On the last day, they presented the pitch to a panel including two representatives from the Department of Foreign Affairs and Trade, a representative from Australia Awards and a representative from the University of Sydney.
The 20 participants have all now returned to Indonesia to implement the individual projects they developed during the course with a deeper understanding of what it means to be a person with a disability in an environment that better caters to their needs, and a greater awareness of how to enact the principle of inclusion.
This article was prepared by the Sydney Southeast Asia Centre.
Share this article on:
Related Article

Back to Top