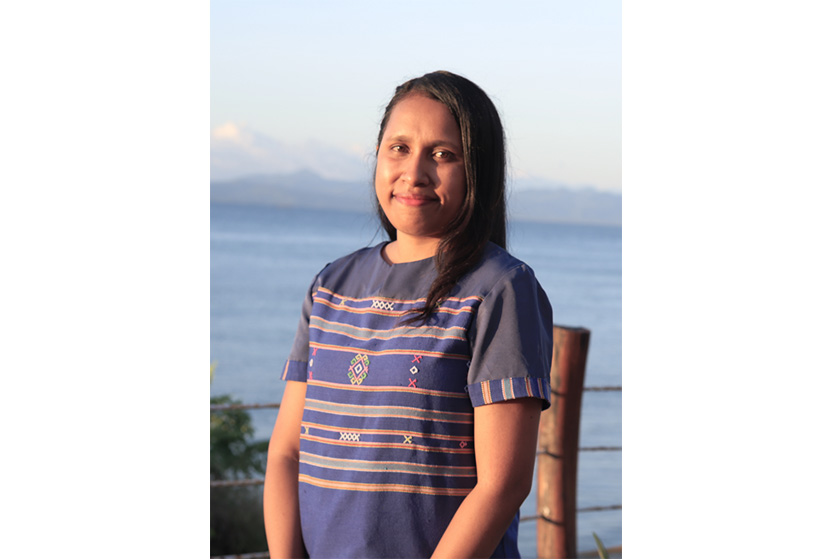 17 Apr 2018
Hermina Manlea: Inspiring Nationalism in the Next Generation Through Volunteering
Winner of the 2018 Outstanding Young Alumni Award
Hermina Manlea picked up her belief in the importance of volunteering during her studies in Australia. It inspired her to give back to her hometown and university, and led her to executive produce an award-winning short film.
Hermina, 31, has won the Outstanding Young Alumni Award of 2018 for her achievements. She graduated with a Master in Environmental Science from the University of Western Australia under an Australia Awards Scholarship in 2015.
"I was touched and very happy when I heard the news," she said. "It never crossed my mind that my contribution in developing education in the border area would be rewarded."
Originally from Kefamenanu, four hours from the provincial capital Kupang, Hermina lectures at Universitas Timor, right in her home town. Kefamenanu is close to the border with Oecusse, a coastal enclave of Timor Leste entirely surrounded by Indonesia's East Nusa Tenggara Province.
The short film, titled Unu: Realita di Perbatasan or Unu: Reality at the Border, was self-funded and entirely made by Hermina's students.
It tells the story of two siblings in West Timor, Indonesia, who struggle to support themselves after being separated from their father following the death of their mother.
The theme of nationalism is illustrated by the boy's attachment to a Timor Leste flag jacket, and his sister's initiative to switch it with a red-and-white jacket, the color of the Indonesian flag. The word unu carries a philosophical meaning for the Dawanese people, as was depicted in the film. It is used to refer something or someone as the first and ultimate, and in this case, refers to Indonesia as the first and ultimate choice by the West Timorese and Indonesian people, according to Hermina.
The 14-minute film won first place in two national film festivals: the 2017 Festival Film Mahasiswa Indonesia (FFMI, or the Indonesian Student Film Festival) held by the Indonesian Ministry of Research, Technology and Higher Education; and the 2017 Festival Video Edukasi (FVE, or the Educational Video Festival) held by the Indonesian Ministry of Education and Culture.
"We struggled with equipment. But two of my students have talents in video editing. I challenged them and they gave their all to this project," she said.
"In regards to skills in filming, every one of them, including myself, are self-taught." The first thing Hermina purchased with her prize money was better equipment. "We bought a new microphone and laptop for the group to use."
The initial five students from the short film project now organise coaching clinics and workshops for others.
The patriotic spirit of the short film contributed to Hermina's appointment as speaker at training events for Pancasila cadres, who are mostly students, by the Agency for Pancasila Ideology Education (BPIP) at the President's office.
At Universitas Timor, Hermina teaches introduction to environmental sciences and climate change adaptation and mitigation. She has published her work as a research academic and has also been awarded best presenter at an international scientific workshop.
Hermina strongly advises new alumni to start getting involved with volunteering to make a difference.
"New graduates should not be discouraged from working in the field that they love," she said. "Just start working by volunteering in your own neighbourhood."
Share this article on:
Related Article

Back to Top