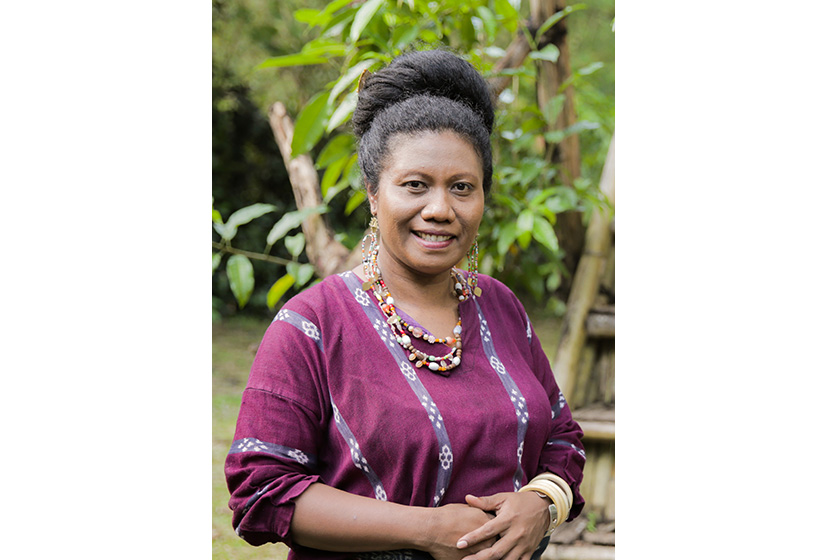 19 Apr 2018
Alfonsa Horeng: Weaving the Future to Preserve Indonesia's Ancient Textile Tradition
Winner of the 2018 Promoting Women's Empowerment Award
For weaver and entrepreneur Alfonsa Horeng, every piece of tenun ikat, or tie-dyed and woven fabric, holds deep philosophical values, reflecting one's life journey from birth to death.
"We don't just wear tenun, we use tenun for every milestone in our lives. We use tenun for dowries, for marriage [celebrations], for funerals, for harvest celebrations. There's a tenun for every important occasion," said Alfonsa, speaking from her hometown of Maumere, in Indonesia's eastern island of Flores.
Alfonsa is the founder of Lepo Lorun, a women's weaving cooperative with over 823 members spread out across 17 villages in Flores. The 43-year old is a graduate of a short course in Australia and this year she's been awarded with the Promoting Women's Empowerment Award, which recognises the significant contribution made by alumni in their chosen professional fields.
In 2003, at age 29, Alfonsa set up the cooperative several years after completing her bachelor's degree in agricultural science at a private university in east Java. When she returned home, she rediscovered her true calling in weaving.
A conversation with Alfonsa about tenun brings out much knowledge and know-how that one may not find in textbooks.
"When a weaver starts weaving, we believe our ancestors are with us to guide our weaving," she said, describing with detail and passion the different types of rituals that weavers must perform before starting a project.
In 2016, Alfonsa was selected as one of 25 fashion and textile designers to attend a two-week short course in Australia to learn the business and production aspects of the fashion industry, under an Australia Awards scholarship.
Facilitated by Queensland University of Technology, Women in Global Business - International Business Readiness: A Course for the Fashion and Textile Sector, saw her visit Brisbane and Sydney, where she met representatives from the Australian cotton industry, fashion entrepreneurs, and attended the prestigious Sydney Fashion Week.
"I'm very impressed with the business environment in Australia. The [business] system is very transparent and clear. There is a strong distribution mechanism and legal tools that support the development of small businesses like mine," said Alfonsa.
She also praised the networking and mentoring opportunities throughout the course, particularly with women leaders based in Australia, including with Australian design schools, clothing and textiles manufacturers, and fashion design companies.
As an ardent believer in ancient tradition, Alfonsa is committed to using only organic local materials with natural dying and spun cotton techniques in backstrap looms equipment. She sources the natural dye from plants such as indigofera, morinda, simplocos, turmeric, mango trees, mangrove, and redwood.
Like most women in her cooperative, Alfonsa comes from a family of weavers. "I'm not sure how many generations in my family have done weaving. This is an ancient art, we're talking about hundreds of years (of tradition)," she said.
The visit to Australia also inspired Alfonsa to someday build a museum of tenun in her hometown, where visitors can learn the true philosophical meanings of her collection. She also hopes that the museum can be a centre of excellence for scholars wishing to study the history of tenun ikat.
"But it has to be in Maumere," said Alfonsa. "We don't want the museum to be in Jakarta, we want it to be close to the center of our own heritage because we know best the knowledge and history of the tenun."
Alfonsa sees herself as an ambassador of tenun ikat, hence her donning an Utan—a tenun fabric for women—at every occasion, from informal gatherings to formal events.
"And I'm going to wear my Utan to receive the award," said Alfonsa.
Share this article on:
Related Article

Back to Top