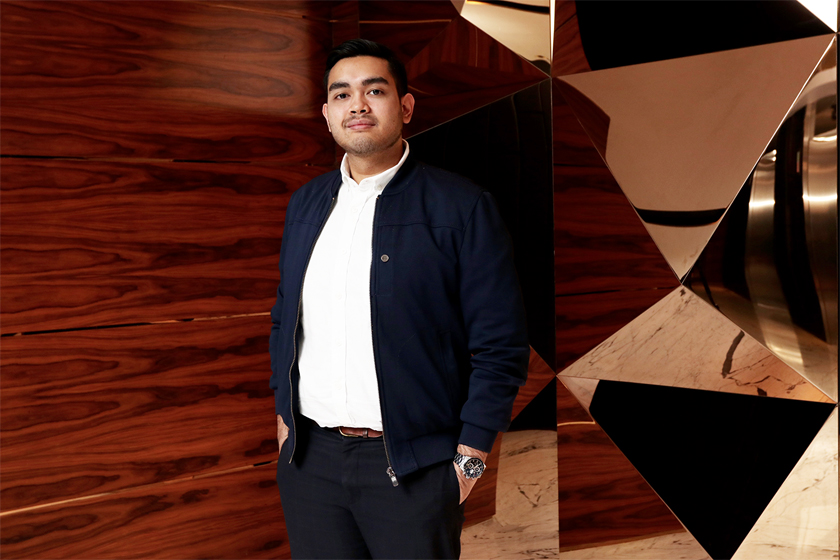 17 May 2019
Rorian Pratyaksa leading the next wave of Indonesia's technological disruption
Winner of the 2019 Outstanding Young Alumni
In the era of disruptive technology, the future belongs to those who dare to innovate – like Rorian Pratyaksa, winner of the 2019 Outstanding Young Alumni Award.
The emergence in Indonesia of mobile application-based Unicorns, or startups valued at US$1billion or more, shows the potential for disruptive technology to transform the economic future of Southeast Asia's biggest economies. Not only they have created tens of thousands of new job opportunities, they have also altered the way we do business, bringing us closer to a cashless society.
Pratyaksa, a 28-year-old tech founder and entrepreneur, is an ardent believer and practitioner of technological disruption. He is co-founder of PayAccess, a licensed mobile payments startup. The platform provides transactions via smartphone for "online to offline payments" – or drawing customers from online channels to make purchases in physical stores, street vendors, restaurants - as well as in-app digital payments. He is also co-founder and director at Woobiz, a business empowering women who generally have limited access to financing and business capital in Indonesia.
Being inclusive has always been in the business philosophy of Pratyaksa, who attended Taking business to the next level – A course for leaders, entrepreneurs, and innovators of technology-enabled start-ups Short Term Awards at Queensland University of Technology (QUT) in 2016, under an Australia Awards Scholarship.
"I believe to be successful in delivering the change for cashless society, we should be focusing on serving the under-served, building products to accommodate the segment," says Pratyaksa.
"We should focus on building a cashless payment infrastructure and model that is easy to use, scalable and efficient."
"With PayAccess, we were trying to solve the underdevelopment of the cashless ecosystem in Indonesia. Since early 2015, PayAccess has been working for a mobile payment solution; a no-investment and no-hardware technology for all stakeholders to be able to accept and use mobile 'cashless' payment."
Pratyaksa graduated with honours in economics and financial management from De La Salle University, one of the top colleges in the Philippines. He spent less than a year working as an analyst at leading accounting firm Price Waterhouse Coopers before venturing into startups. It was a decision driven by his desire to make an impact, he says.
Pratyaksa describes his focus as: "working with clear vision and mission, and living day-to-day knowing that I could make a real impact, making sure each day is one step closer to making it happen."
Through Woobiz, he provides assistance, facilitation and guidance to new micro-entrepreneurs, particularly women, through a mobile application that offers a sales platform and mobile payment solution in one.
Being an innovator takes a lot of determination, and he credits the Australia Awards short course at QUT for helping him adapt to rapid changes.
"(The course) taught the fundamentals and provided new perspectives. It helped me see the possibilities, prepared me with the basics, and also adjusted me for the rapid growth ahead. Further, the network has been instrumental in helping me grow, support business partners, and excellent as a support network," he says.
Being an innovator also takes a lot of practice in certain skills. Pratyaksa believes anyone can strive to become an innovator if they pay more attention to a few basic skills.
First, he says, an assertive attitude is needed to solve problems. Second is communication, to convince early core supporting team members, potential investors, and other relevant stakeholders, like regulators, government, and the general public. The third skill is grit and persistence – what Pratyaksa describes as the ability to have a clear mission and vision to get through future challenges with optimism and positivity.
The next big opportunity for technological disruption, he says, is in the way people make a living. He foresees work becoming more mobile and a significant amount of new job creation in the digital economy.
Not one to keep his skills for himself, Pratyaksa has also been busy building a business internship program with the University of New South Wales in Sydney. Under the scheme, Australian students are able to have a short stint working in leading Indonesian companies, including his own.
"I plan to continue doing this, and if more universities are interested in having such programs, I'll be more than happy to host and facilitate," he says.
Share this article on:
Related Article

Back to Top