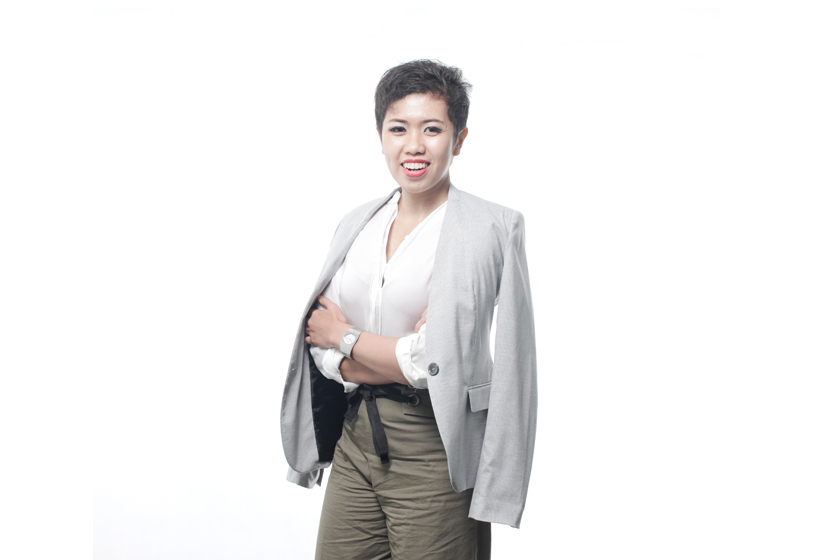 12 Mar 2020
A women leader keeping start-ups healthy with sustainable growth
Tantia Dian Permata Indah, Vice President of Operations at Alodokter (www.alodokter.com), is helping shape the health start-up sector in the midst of a surge of competitors vying for market share.
Established in 2014, Alodokter is the leading health-tech platform in Indonesia with more than 24 million active monthly users, providing health information, medical consultations, health insurance, and an easy way to book hospital appointments through its website and application.
When Tantia participated in the Australia Awards Transformational Business Leadership short course run by Queensland University of Technology two years ago, 80% of Alodokter's operations were done manually.
Alodokter had just released a hospital booking service, and almost every step of the booking process was done manually in the background, creating an administrative bottleneck.
To combat this, Tantia helped design an automated system. Without additional human resources, Alodokter is now able to process tens of thousands of hospital bookings each month compared to the hundreds of bookings per month before the automation.
"It is about introducing the right tools and technology for the job," said Tantia, who at the time was Head of Business Development Operations in charge of the chat operations, campaign operations, and insurance.
When asked about the challenges women face in the start-up industry, Tantia recalled how when she first joined Alodokter in November 2016, she had just given birth.
"One hand was working the laptop, the other was holding my newborn to breastfeed," she laughed. "Keeping a work-life balance can be tricky, much more so in a start-up environment where limited resources contribute to a high-pressure environment."
Leaders in the start-up industry are still predominantly male, but Tantia attributes this to the fact that start-ups often require the ability to analyse data and make quick repairs, traits common among those with engineering backgrounds, a traditionally male field. Tantia finds it very encouraging that the number of female engineers and coders is growing.
"The start-up industry is thankfully a very objective and skill-based industry, so there is equal opportunity for female leaders," she said, adding proudly that the founder and many of the upper management team at Alodokter are female.
Tantia was promoted to Vice President of Operations a month after her return from the short course, and is now also specifically in charge of growing the hospital booking business of Alodokter.
"Conventional businesses might strive for a 20% yearly growth rate, but a start-up would need to reach the goal of a 20% monthly growth rate to ensure that it is viable while only having limited resources," she said.
"There is limited amount of capital, human resources, and time—basically everything."
According to Tantia, health start-ups have their own unique challenges. "It is a highly regulated industry like finance, as it should be. However, the stakes are higher with health start-ups: you are dealing with someone's wellbeing and life, which ultimately is more important than simply reaching your growth targets."
Another challenge specific to health start-ups is that health needs are sporadic. To counter this, a health start-up must have strong branding, so that when potential users become unwell, they think of that business.
"One might get sick maybe four times a year on average. The need is not as frequent as the need for e-commerce," Tantia elaborated.
Upon returning from Australia, Tantia tackled the challenge of keeping Alodokter's growth sustainable by implementing what she learned from the short course.
"A start-up shouldn't focus on only one key performance indicator while sacrificing the other aspects. A start-up has to keep a balanced view."
"I also learned that the product you are selling, is the problem you are solving. As a leader, one has to become a problem solver," added Tantia, who amidst her busy schedule, still finds the time to coach other start-ups in operations, including Kitabisa.com, the largest Indonesian crowdfunding and donation platform.
Alodokter began offering advertising space to hospitals. "The key is not creating a new product itself, but to dig deep and see what other services you can offer from assets you already own. Creating a stand-alone product would be that much more complicated," Tantia said.
One offshoot of Alodokter is Alomedika, a platform for doctors that gives access to continuous medical information. In 2018, Alodokter released the first iteration of its insurance product. In the three months after the short course, the number of new insurance holders increased five-fold. Alodokter is currently releasing the second iteration of its insurance.
The short course also provided Tantia a different perspective on business and leadership.
"Leadership is not just about growth and efficiency. It also needs to be multi-dimensional, encompassing business acumen, communication, and creative leadership, being able to see connections where others don't," Tantia enthused.
It also takes courage. In 2014, Tantia was in charge of hiring for the customer service department at Traveloka, one of Indonesia's largest tech unicorns in the travel sector. With 20 customer service representatives and no system in place, Tantia was entrusted to create a team and customer service system operation, becoming Head of Customer Operations at Traveloka at the young age of 24.
"To become a leader in the start-up industry, you have to have the courage to take up roles and responsibilities you've never taken on before."
Profile photo courtesy of Tantia Dian Permata Indah
Share this article on:
Related Article

Back to Top