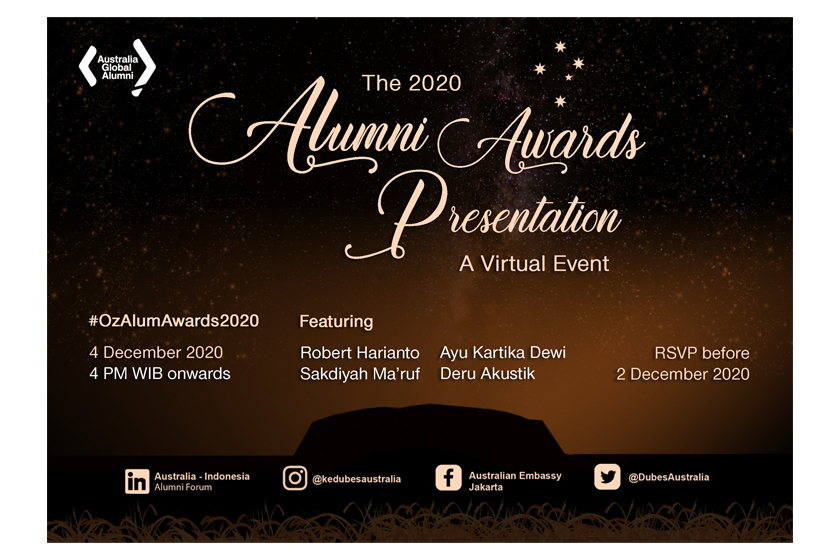 23 Nov 2020
Join Alumni Awards Presentation Live Streaming Event on 4 December!
We are so pleased to bring the alumni community together for the 2020 Alumni Awards presentation live streaming event on 4 December at 4 PM WIB. The prestigious Awards are a celebration of our #OzAlum community and demonstrate the amazing achievements by Australian alumni in Indonesia. The 2020 Alumni Awards presentation will feature keynote speaker Ayu Kartika Dewi, performances by comedian Sakdiyah Ma'ruf and Deru Akustik band, and MC by Robert Harianto. The event is open for public. Please tell your friends and family, sign up to this event before 2 December at: https://oz.link/awards2020. The livestreaming will be held via Zoom and Australia – Indonesia Alumni YouTube channel.
Don't forget to join the fun by wearing Australian attributes during the event and upload your photos on your social media with #OzAlumAwards2020 whether it's Instagram, Facebook or Twitter. Tag @kedubesaustralia on Instagram and @DubesAustralia on Twitter, and you might just win a prize!
Watch the teaser video of the 2020 Alumni Awards Presentation:
Share this article on:
Related Article

Back to Top