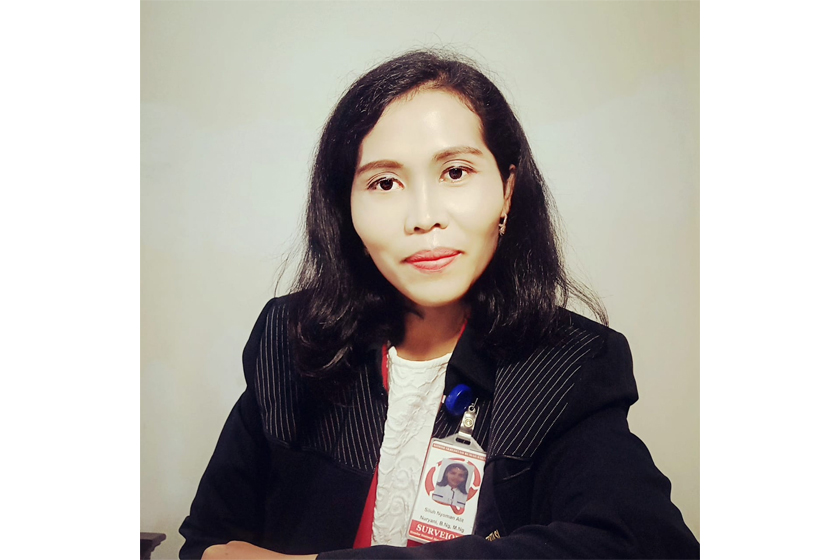 15 Feb 2021
Si Luh Nyoman Alit Nuryani champions roles of nurses in Bali's health care
In facing the pandemic, Si Luh Nyoman Alit Nuryani has had to make sure that all nurses at Bali's Sanglah General Hospital are equipped for necessary procedures, a daunting task as COVID-19 is spreading fast in Indonesia, which has the highest number of recorded cases in Southeast Asia.
"In the beginning, the nurses were in the dark about COVID-19. We then provided online mass education for them, for instance we posted videos on YouTube on how to put on personal protective equipment (PPE) and online training on COVID-19 treatment guidelines," she said.
Working at Sanglah General Hospital since 1999, Alit started her nursing experience in the emergency department. Given Sanglah General Hospital is the main COVID-19 referral hospital on Bali island, Alit and team must ensure that all nurses are capable and understand how to prevent the spread of the virus, including to themselves. The Hospital Nursing's committee also provides stress management and training.
With rising case numbers and the pandemic spreading across continents, health workers worldwide have been on the frontline. Alit said nurses in Sanglah General Hospital were adapting to the situation and the stress, adding that the nursing staff included 8 Australian alumni.
"Like it or not we have had to stay on the ground. We take care of our patients by serving together with our fellow health workers," said Alit, who is also in charge of coordinating with foreign consulates and patient 's families who live overseas for treatment of foreign patients at Sanglah General Hospital.
She shared that the biggest challenge was ensuring there were enough capable nurses when surges in coronavirus cases occur. "We had to open new wards and a new intensive care unit, and with that we needed new resources and facilities. The nurses first had to undergo training, otherwise they wouldn't know how to treat (COVID-19) patients and operate ventilators, for instance," Alit said.
Intensive Care training for nurses would usually last at least three months, but the pandemic's dire situation forced Alit and her team to adapt. In three days, they held multiple online lessons for around 600 nurses who then progressed to lessons in the field.
Since the Indonesian government kicked off a mass vaccination drive in mid-January, Alit has also been actively involved in giving vaccines to fellow health workers, vaccinating up to 100 people per day.
In 2008, Alit received an Australian Development Scholarship (Australia Awards). With an associate degree from the Polytechnic of Health Denpasar, she then took Bachelor's and Master's degrees in nursing from the University of Wollongong. Alit knew precisely what she wanted to accomplish when she started her education in Australia: for Indonesian nurses to be equals with their fellow health workers.
At the time, nurses with Bachelor's degrees were few and far between, Alit said. "Though it is now a different story," she said. "Where most nurses hold Bachelor's degrees and some are pursuing Doctoral degrees, we are still underestimated."
Alit found a different story in Australia. "There, nurses were considered essential, just as important as doctors. There's even a saying, 'Nurses run the hospital, without them a hospital would collapse'," she said.
For Alit, what stood out from her Australian education was the focus on critical thinking and evidence-based approach.
"I learned how to develop policies and guidelines with up-to-date resources," she said. "That was a valuable moment for me. I also learned how to communicate openly and from multiple perspectives."
She became a clinical nurse educator when she returned to Bali and was involved with the hospital's quality and safety committee in 2013. "With no hospital accreditation at the time, we began to develop policies and guidelines referring to the Joint Commission International (JCI) standards," Alit said. Sanglah General Hospital was accredited in the same year.
In 2014, an accreditation committee for hospitals in Indonesia was established to standardise quality and safety measures. Tasked as one of the surveyors for the Indonesian Commission on Accreditation of Hospitals (KARS ICAHO), Alit visited and assessed hospitals across the country and provided education on how to maintain patients' safety.
"Before the (coronavirus) pandemic, I travelled all the way from Aceh to Papua. But as travel restrictions are now in place, for the past year my focus has been on the nursing committee at Sanglah Hospital," Alit shared.
The Nursing Committee at Sanglah General Hospital seeks to uphold the quality of nursing, determine nurse's credentials and to ensure their good conduct. "I have to make sure the 1,300 nurses at Sanglah are competent and certified through workshops and training," said Alit, who also teaches at Wira Medika PPNI Institute of Health Sciences in Denpasar.
Alit maintains close contact with medical professionals in Australia. From 2013 to 2016, she was involved in Sanglah General Hospital's partnership with the Royal Darwin Hospital in the Sister Hospital Program to improve standards of clinical care and strengthen disaster and emergency preparedness.
In 2014, Alit led a project funded by the Australian Embassy's Alumni Grant Scheme to improve research capacity among health personnel at the Sanglah General Hospital. The three-day project aimed to encourage 14 participants who were mostly health workers and lecturers to do research and develop their research skills.
Since 2017, Alit has also been involved in the LIAM Charitable Fund. Founded in 2013 by Australians Lhani and Tim Davies, the parents of Liam Davies who died of methanol poisoning in Lombok, the charity travels across Indonesia to give education on the dangers of mixed alcohols to schools, bars and producers.
A full-time nurse educator as well as a lecturer, Alit has been pursuing a Doctoral degree on education since 2019 at Ganesha University of Education in Singaraja, a port town in northern Bali. She is currently writing her dissertation on online training for nurses.
"I'm very interested in e-learning and the development of electronic medical records. As for nurses, hopefully in the future they will be regarded as just as essential as other health workers. I want to change how people view them."
Share this article on:
Related Article

Back to Top