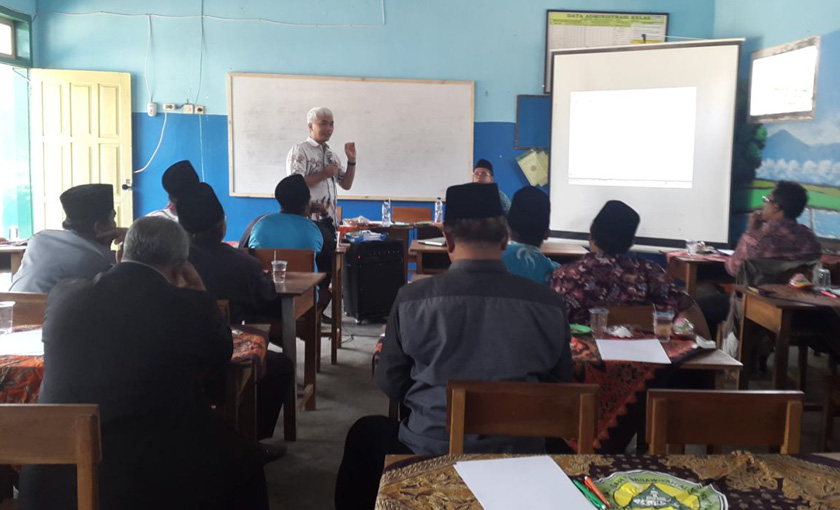 23 Nov 2016
Fostering Active Teaching and Learning Process Quality in Indonesia's Schools
A committed and experienced educator, Mokhamad Iksan, has dedicated his life to improving education in rural areas in Malang, East Java. He is an Australia Awards alumnus who graduated with a Master degree in Education Management from Melbourne's Monash University in 2009. Iksan believes that teachers play a crucial role to facilitate children to learn. When leaders of educational institutions lack a visionary outlook, efforts to improve teacher competencies will not succeed, and a key ingredient to maintain quality of education will be missing.
Iksan spent years living in Yogyakarta city in Central Java, where he studied English literature for his Bachelor degree at Gadjah Mada University. In 2012, he joined an Australia's Education Partnership with Indonesia program. He assisted in providing direct support to 1,500 Madrasah - private Islamic schools - to reach national accreditation. He is also the founder of the Education Quality Improvement Consortium (www.equic.org) in Malang, which supports schools to become self-sufficient and sustainable.
His latest achievement at the Education Quality Improvement Consortium found Iksan supporting targeted schools using the Alumni Grant Scheme (AGS) batch two funding in 2015. The one-year project aimed to strengthen the capacity for better education of the existing consortium, through training and mentoring activities for Islamic primary schools and junior high schools.
Iksan pointed out the glaringly obvious problem in education: lack of resources and training which are needed for today's world and the willingness to embrace change for the better. "Many teachers have strong commitment, yet they don't know how to equip themselves to improve," said Iksan.
The AGS project targeted 15 schools - seven Islamic primary schools, six Islamic junior high schools and two private junior schools in Malang. The 301 participants, including 170 teachers, received training and mentoring activities that focused on developing school planning, improved quality of management and implementing active teaching and learning. Of the 170 teachers, 88 were women and 82 were men. The project also involved more than 30 students from school unions and community participants to help achieve sustainable capacity building.
"We heavily emphasised the mentoring activities to ensure the training was applicable for participants when they're on the job and also to trigger a trickle-down effect within the schools," Iksan said.
By working with school supervisors and involving the community, the project reached those responsible for managing education both inside and outside the school, with the aim of opening minds and exposing people to different views and ways of thinking.
"I have a personal commitment to share my knowledge and expertise after receiving a Master degree in Australia and this grant has helped me tremendously in enabling me to implement my plan to support the education sector, which evidently needs to improve its quality," Iksan said. "During the project, I was even more challenged because such community development is like an exercise for your professional development and growth. It was a valuable experience."
Share this article on:
Related Article

Back to Top