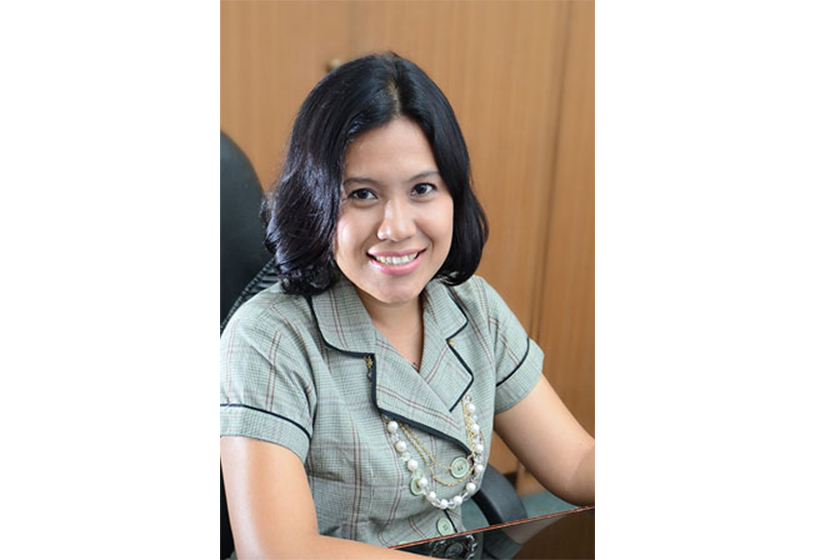 08 Apr 2016
Indonesia's Fiscal Reform: A Milestone
Tio Novita Efriani, a PhD canditate in Accounting and Public Sector Risk Management at Murdoch University, received her first Australia Awards Scholarship in 2006, obtaining a Master's in Governance and Public Policy from the University of Queensland.
While pursuing her PhD, Tio is also active as Vice President of the Association of Indonesian Postgraduate Students and Scholars in Australia for the 2016–2017 term. In 2015, she served as Event Coordinator and Stage Director for the highly successful KREASI Indonesia 2015, the largest cultural and culinary event in Western Australia, which showcased more than 100 artists.
During her Master's studies, at first Tio had difficulty in studying public policy since she didn't have prior background in the subject. Just as she did not give up in applying for an Australia Awards Scholarship, Tio persevered and arranged continuous meeting with her lecturer, asking for reading materials. She also met up with colleagues to discuss the material. Tio eventually managed to catch up with the rest of her colleagues.
Tio found that her Australia Awards experience and the knowledge she obtained there to be beneficial. "My postgraduate studies helped me tremendously in conducting my work. My supervisor and colleagues were also supportive and willing to adapt to change and new ideas," Tio said. She felt an increase in confidence in conducting her responsibilities, drafting concepts and ideas not only related to accounting but also governmental issues and policies.
Prior to her PhD studies, Tio served at the Directorate General of Treasury and as a member of the working group in the Government Accounting Standards Committee (Komite Standar Akuntansi Pemerintahan, KSAP). Together with two others, she was sent to the United States for 10 days to do a study excursion at the US Department of Treasury.
During this study excursion, Tio and her team gave presentations in front of academics and US government representatives on the implementation of 'cash towards accrual' accounting system in Indonesia and also expressed the delegation's intention to observe how the accrual accounting system in the United States was conducted. The Indonesian delegation also paid a visit to the Federal Accounting Standards Advisory Board (FASAB) and Government Accounting Standard Board (GASB).
In addition, Tio was also appointed as a moderator for a workshop organized to present the result of two staffs under the Ministry of Finance who have had the opportunity to work at Department of Finance and Deregulation and Australian Tax Office in Canberra as finance staff for 1.5 months under the Government Partnership Fund.
Tio also went to the 1st ASEAN standard setter meeting in Bali as one of the Government Accounting Standard Committee representatives.
When she served as Head of Section Support for the Implementation of Government Accounting Standard – Central Government Office, Directorate General of Treasury, one of Tio's tasks was to manage a Directorate General of Treasury Help Desk. The purpose of this Help Desk was to assist people in becoming familiar with the instrument and policy on government accounting system and its standards, and in the future would include how to manage complaints from communities.
The Help Desk was made available through the Directorate General of Treasury website containing accounting profiles and queries menu. If the queries were related to Tio's department, then her team would try to address them, and if not, those queries would be distributed to relevant departments. Part of Tio's responsibilities included managing the quarterly meeting with the Help Desk team to discuss any pending cases that had been captured in the help desk.
"In order to get people to love accounting and support the fiscal reform, we had to introduce accounting to them and make accounting part of their professional life. Help Desk was a tool that we designed to help us disseminate the spirit of fiscal reform to all government positions," Tio added.
Tio also provided accounting training for trainers on government accounting standards for staffs from relevant institutions on a national level. Those trained staffs were also required to train other staffs from related institutions at the provincial and lower level. One of Tio's objectives was to disseminate the Government of Indonesia's accounting system since all the accounting reports that would go to central government for consolidation should be standardized to avoid confusion. The last targeted implementation of the Government of Indonesia streamlined accrual accounting system was by 2015.
"I'm dedicated to support the implementation of fiscal reform and help strengthening government financial management system," Tio stated.
Share this article on:
Related Article

Back to Top