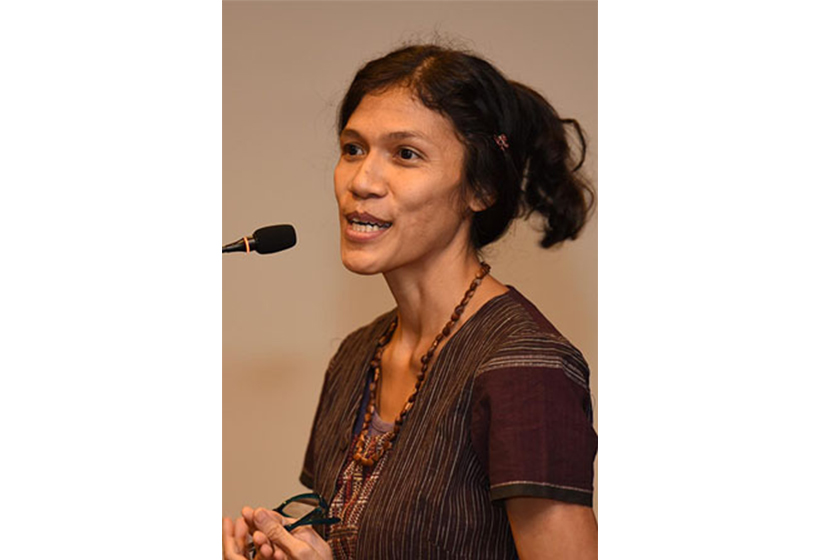 25 Apr 2016
Indonesia's Female 'Indiana Jones' Butet Fights for Her Jungle Tribe
Deep in a remote forest in Indonesia, a school for tribal children and elders thrives under the tutelage of Australian National University (ANU) anthropology Masters graduate and Australia Awards recipient Saur Marlina Butet Manurung (Butet).
The school provides alternative education for the Orang Rimba 'people of the forest' in the far-flung reaches of Sumatra. It was the first of many schools Butet established once she decided to combine her anthropology qualifications with literature majors, and her desire to make a difference.
"I have put in place a template that can be applied in any remote community," Butet said. "In Indonesia, formal schooling sometimes meant going out of the jungle. I thought 'why not just send the teacher inside the jungle'.
"Our program, SOKOLA, not only teaches children reading and writing skills, it also involves the elders who teach them about traditional law and values and how to be good hunters, and the shamans teach about herbs and traditional medicine. They do not get that at formal schools."
Butet decided from an early age that she wanted to be an anthropologist and worked for a while on a project in West Timor. It was there that she came across the ANU's Professor James J. Fox. Professor Fox, currently the ANU's Professor of Resource Management in Asia-Pacific Program, was so impressed with her approach to her work that he suggested she further her studies in Canberra.
"I was in awe of him. He had worked and lived on Rote Island for 30 years and spoke the local language. I always dreamt that I could be with one tribe somewhere, that I could be useful but also adventurous. It's a calling."
She didn't take up his offer; instead she applied in 1999 for an anthropologist's job involving research and developing an education program for tribal children. "That was my dream job. I told them they didn't have to pay me, I just wanted the job."
Butet developed her education program and involved herself with communities threatened by Indonesia's logging and palm oil industries. So, in 2003, with four fellow educators, she established SOKOLA.
"The problem I faced was that people who mattered, particularly those in government, never listened to me because I was just an undergraduate and I was too emotional in my advocacy. I was told I needed to go back to uni to learn to approach things in an academic way."
Butet turned her attention to the one place she knew would provide her with the extra qualifications that would give her voice more clout—the ANU. "I applied for Australia Awards at the ANU four times before 2009 when I finally got in. At the ANU, the course I studied as an Australia Awards Scholar is not pure anthropology; it's called Master of Applied Anthropology and Participatory Development.
"My Australian studies helped me to understand so many things and in a more holistic way. I learnt to speak less with an 'activist language' and more in a style that could resonate with the audience. Whilst I had the fieldwork experience, I needed more. I also had help from my classmates who came from various countries and fields."
Butet, armed with her anthropology masters, now feels she is able to equip those tribal communities with the necessary tools to better meet the challenges of globalisation that impact on the jungle.
She is adamant that it is not 'about her'. One of her finest moments was when one of the tribal elders addressed Parliament to promote the cause of people living in the jungle. "The purpose of our project is to educate the people not to change them but to allow them to make that decision if they want to." She has published a book and been the subject of a film on her life and her work with the Orang Rimba people, 'Sokola Rimba' (The Jungle School). Based on Butet's biography,Sokola Rimba, the movie by Indonesia director Riri Riza won Indonesia's 2013 Piala Maya Award for best film of the year.
Butet has received numerous awards for her work, including the Ramon Magsaysay Award in the Philippines that is likened to a Nobel Prize in the Asia Region. Butet has no doubt her ANU experience has been immensely rewarding, even more so because and her future husband, a fellow-student, met in class at the university.
She owes much to the inspiration she found many years ago to Professor Fox, the ANU academic she met in the forest. But, as Butet undertakes her journey to Orang Rimba from Jakarta—an hour by plane, followed by nine hours on a bumpy bus ride, followed by a five-hour walk to find the nomadic tribe—she is inspired by her other hero, Indiana Jones.
"I just love him; the adventures, the excitement, the fight for the rights of people in the jungle. He was an archaeologist but it piqued my interest in anthropology."
The original article was published on Australia Awards Canberra website: http://australiaawards.gov.au/news/Pages/Indonesia%E2%80%99s-female-%E2%80%98Indiana-Jones%E2%80%99-Butet-fights-for-her-jungle-tribe.aspx
Share this article on:
Related Article

Back to Top