06 Sep 2016
Australia Awards alumni with the common goal of eliminating malaria have come together to learn from each other's setbacks and successes, as they strive to achieve results through collaborative efforts.
The 46 Short Term Awards alumni from 13 projects across East Nusa Tenggara, Papua, and West Papua gathered to compare notes at the "Malaria Prevention and Treatment for Infants, Children and Pregnant Women in Eastern Indonesia Symposium and Post Award Workshop" in Bali, 29 August – 1 September 2016.
The participants had developed logical frameworks – or "log frames" - for their projects during the Australia Awards Short Term Awards in Melbourne in April and May 2016. Funded by the Australia Awards, the short course was led by the Nossal Institute for Global Health and the Burnet Institute, with the support of Menzies School of Health Research and Thailand's Mahidol University.
The symposium was led by the Nossal Institute's Dr Timothy Moore and the Burnet Institute's Dr Lisa Davidson and featured a keynote session by the Eijkman Institute's Dr Rintis Noviyanti, an Australia Awards alumnus involved in an international consortium mapping the genetic variations of Plasmodiu­m–the organism that causes malaria–across Indonesia. The symposium also featured a panel discussion with representatives from the Health Offices of East Nusa Tenggara, Papua, and West Papua.
"The choice to include our colleagues in Eastern Indonesia is tremendously on point as it is indeed these provinces where malaria is still endemic," drg R. Vensya Sitohang, Director for Prevention and Control of Vector and Zoonotic Diseases, Indonesian Ministry of Health, commented in her opening remarks. Difficult terrain, intermittent tribal conflicts, and language barriers are key factors that have slowed efforts to fight endemic malaria in these provinces.
Kristen Stokes, First Secretary of Health Program, Australian Department of Foreign Affairs and Trade, expressed hope that the alumni would "continue to play an important role in eliminating malaria once they return to their posts in hospitals, health offices, non-profit organisations, and private offices".
And indeed they have. The "Vector Control Improvement in Rinca Island" project (Peningkatan Pengendalian Vektor di Pulau Rinca), from East Nusa Tenggara, was able to secure a boat and fuel after approaching the Health Office with the log frame it developed during the short course, enabling the project to reach more people.
The "Malaria-Free Family" project (KEBAS (Keluarga Bebas) Malaria), from West Papua has also been making tremendous progress in increasing awareness of malaria, drumming up support from the community and other stakeholders. Its 100-plus-member social media group includes journalists who help spread the word on malaria-related activities.
That is not to say the projects hadn't already made an impact prior to the short course. The project "Community-based Malaria Elimination Initiative at Egon Village – Sikka District", from East Nusa Tenggara, worked with the community in opening lagoons to eliminate mosquito larvae. This saw the number of malaria cases drop significantly - from 546 cases in 2013 to only three cases so far in 2016 in one of the highest malaria endemic villages in Sikka. One can only imagine what further impact can be made when surrounding villages begin to set log frames and targets of their own.
Community involvement is key to many of these projects. The "Thermometer Fever" project was able to persuade families in the city to participate in the "one thermometer for the city, one thermometer for the village" drive. Each time a family buys a thermometer for their own needs, they would also donate one for families in remote villages. Alongside a song the project wrote and taught to children at Sunday schools, the donation of thermometers is raising awareness of the importance of fever diagnosis as a means of early detection of malaria.
Other projects utilise creative names to engage the community. There is the "TIFA" (Tangible Intruder For Anopheles) Group, which is a play on words on the Papuan traditional musical instrument, the "Larvae Army" project (Laskar Jentik) in East Nusa Tenggara that works with school children, as well as the "SMS" project, or the Malaria Surveillance Officers' Unit (Satgas Malaria Surveillance).
Raising community awareness and engagement are only part of malaria elimination and treatment. Other projects in East Nusa Tenggara focus on improving the quality assurance of malaria microscopic tests. Before the end of the symposium, the alumni established a quarterly newsletter to maintain the important exchange of ideas and contacts.
As Kristen Stokes had said on the first day of the symposium, "I have no doubt that in your collaborative efforts, we will see results."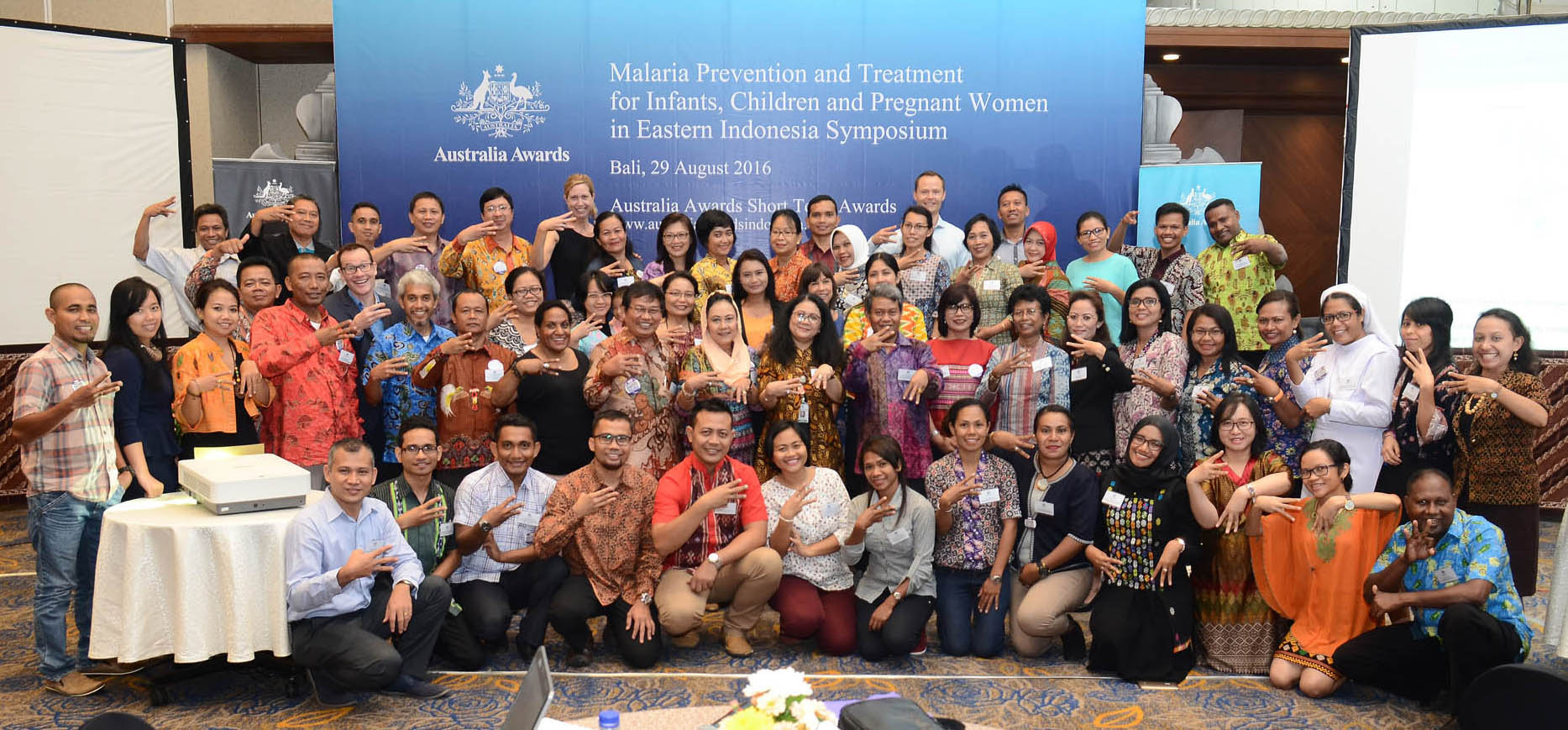 Share this article on:
Related Article

Back to Top