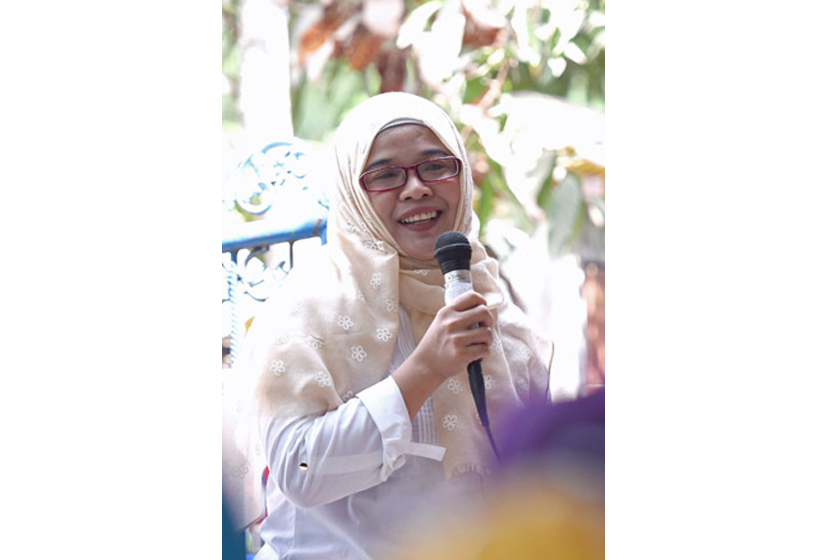 16 Jan 2017
Rosita Tandos Sparks Economic Empowerment for Women in West Java
Rosita Tandos graduated from Curtin University of Technology determined to do more for the economic empowerment and protection of women. When she learned that many women are trapped in overseas domestic work due to a lack of alternatives, she wanted to act – and the Alumni Grant Scheme helped make it happen.
After completing her studies in Australia, Rosita returned to Indonesia and became a lecturer at the State Islamic Institute (IAIN) Syekh Nurjati in Cirebon, West Java. There, she headed the Centre for Gender and Children Studies (PSGA), where she learned that many female migrant domestic workers have no other employment options when they return home, due to their lack of skills and training.
Rosita felt she must do something to help. She started her research in the neighbouring city of Indramayu, one of the largest sources of migrant workers in Indonesia, particularly women.
Rosita wanted to offer an alternative for those who wished to stop working as domestic or migrant workers. She sought seed funding through an Australian government Alumni Grant Scheme to help her implement a community project.
"I did my initial research in 2010 and when I found out about AGS five years later, I thought to myself this is a huge opportunity," she says. "I was able to test my findings and do something for the community. I immediately dove in to implement my project."
Rosita, who graduated with a Master degree in Community Development from Curtin University of Technology under Australian Development Scholarships in 2007, says the community development project idea came from the women, combined with evidence-based research on what they actually wanted and needed from it.
"Their life savings collected from working overseas were used for school fees, building a house and to pay previous debts," she says. "They needed a job when they went back home and they wanted to have the option to choose a profession other than domestic work. The motivation to do entrepreneurship was high but they didn't have the skills and knowledge or capital to start up a business."
To spark entrepreneurship, the women were trained to develop a home-based industry, a small business or other economic activity so they would be able to improve their economic conditions and help support their families. These businesses varied from raising livestock, to opening shops, making crackers and creating Batik. During the one-year project that started in September 2015 until August 2016, Rosita trained around 200 women, with the help of four people in her team who all came from the same village. The training was held modestly on the home veranda of one of the organisers.
Of the 200 women, 160 received microcredit as seed funding to spur the business. The microcredit also helped the women become financially literate. They learned about managing their funds in their business and could consult with Rosita if they had any concerns. To give a sense of recognition, the successful women were given awards because that too helped motivate others through the sharing of their experiences.
Rosita believes the Alumni Grant Scheme program is a "remarkable" tool for alumni. "We have the opportunity to apply theory into practice in the local context," she says.
"It becomes a full cycle and it made sense. The training was in high demand and many women in other village also need the skills. I hope I can continue to do this work in the future."
Share this article on:
Related Article

Back to Top