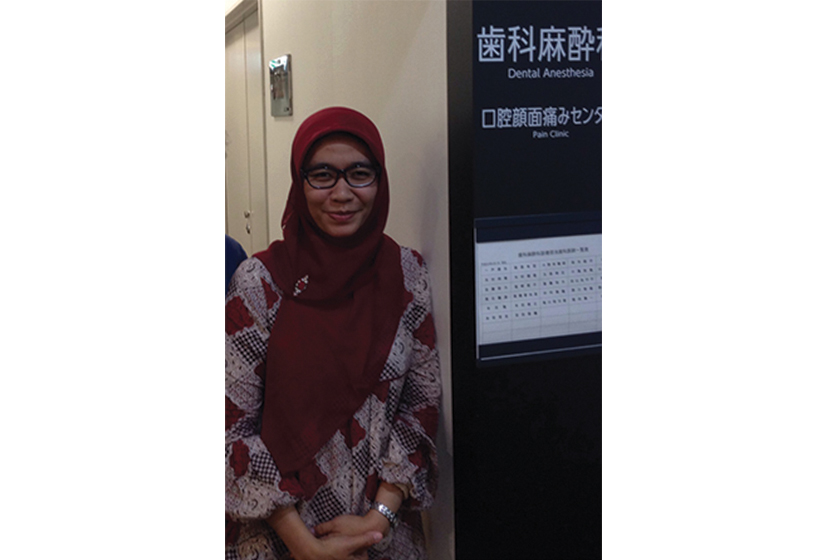 29 Mar 2017
Tantry Maulina: Devoted to Dental Research
Allison Sudradjat Prize Winner 2011
Tantry Maulina has pursued the less common career path of dental research in order to blaze her own trail in Indonesian dentistry.
"Dental research in Indonesia has not progressed adequately because people are more focused on clinical skills," the 39-year-old dentist said.
"A lack of facilities and infrastructure is also a challenge."
In 2014 Tantry obtained her PhD from the University of Sydney on the Australian Leadership Award and Allison Sudradjat Prize scholarships, with research on orofacial pain – a term for pain felt in the mouth, jaw and face.
She graduated from the faculty of dentistry of Padjadjaran University in 2003 and obtained her master's degree in oral biology at the same institution on a scholarship from the Indonesian National Ministry of Education in 2010.
She has also taken part in dental cosmetic and teaching courses in the Netherlands.
As a lecturer at the dentistry faculty of Padjadjaran University in Bandung, Tantry said she and the university benefited from the contacts she developed during her study in Australia.
"I had the opportunity to meet experts from around the world and it helped me build a network of contacts that are also beneficial for my students who have joined student change programs," she said.
"I have also been able to publish articles in international journals, allowing me to progress in my career as an academic."
Tantry's research includes the prevalence of orofacial pain and its association to demographical factors in West Java province and the incidence of oral carcinoma and its relationship with orofacial pain in oral cancer patients.
Tantry said the scholarships had also allowed her to attend international conferences.
"As a PhD student I attended conferences in at least 10 countries. It's an opportunity that only Australian Government scholarship recipients can have," she said.
Since 2011, she has been invited to speak at international conferences in Germany, Spain, Italy, the Netherlands and other countries.
Before pursuing her PhD, Tantry worked at Hasan Sadikin Hospital, the largest hospital in West Java, in dental programs that gave HIV-positive individuals better quality of life and lower likelihood of conversion to AIDS.
"Some of the patients didn't know that they were infected with HIV and that their oral problems were manifestations of HIV," she said.
Tantry is helping to establish a research centre on orofacial pain at Padjadjaran University, which is expected to be inaugurated later this year.
"I hope there will be more dental research centres in Indonesia and more and more dentists are involved in research," she said.
She is also spearheading an online English language journal called the Padjadjaran Journal of Oral and Maxillofacial Surgery, for which she will serve as editor-in-chief.
"We're currently in the process of obtaining a licence from LIPI (the Indonesian Institute of Sciences) and hopefully it will go live in two months, at the latest," she said.
"It will be a challenge to publish between five and six articles offering new research with the right methodologies and written in English every quarter."
Share this article on:
Related Article

Back to Top