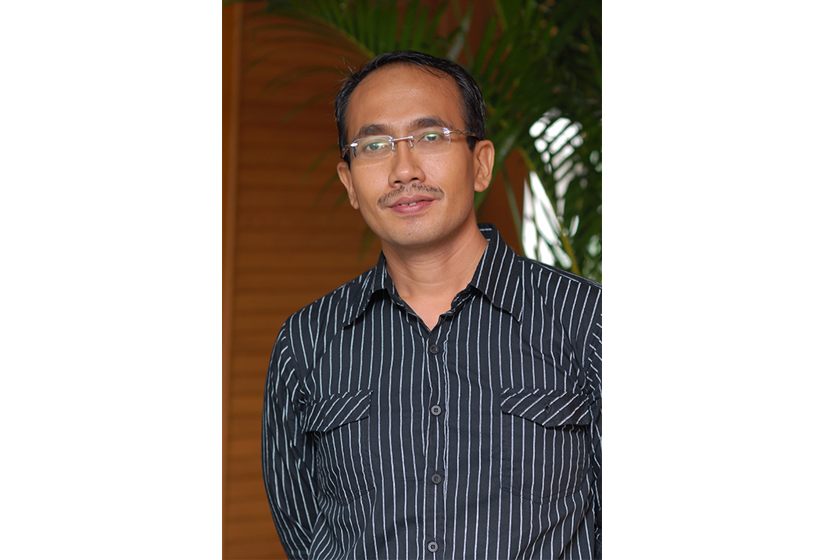 06 Mar 2016
A Systems Engineer Fighting for a Transparent Election
Mohamad Aryana Haribawa, known as Andre to friends and colleagues, believes that there has always been something deep inside him which pushes him to always be on the lookout for new challenges.
One of four brothers, Andre traces his interest in computers and information technology back to his elementary school days.
"At first, my father would not buy us a computer because he thought we would just use them to play games, but he soon relented and realised that computers were yet another tool to help us achieve our ambitions in life."
In just a very short time so far, Andre has achieved a lot.
Andre was successful in gaining an Australia Awards scholarship in 2001, giving him the opportunity to achieve his Master in Software Systems Engineering degree from the University of Melbourne.
"In 2001 we lived close to the University of Melbourne in a suburb called Brunswick. It was a very cosmopolitan location and we were always hearing Indonesian spoken."
Andre's wife, Linda, was also awarded an Australian Government scholarship in 2001 and they took their then two-and a half year old daughter with them to Australia, travelling through Victoria in any spare time they had.
The scholarship represented his second study program in Australia: Andre had already completed his bachelor degree through a World Bank scholarship in 1995, where his studies at the University of Tasmania also focussed on information technology.
Prior to working at Initiative Indonesia and Universal McCann Indonesia in 2006, Andre had spent 11 years with Badan Pengkajian dan Penerapan Teknologi (BPPT) – the Indonesian Agency for the Assessment and Application of Technology – under the Ministry of Research and Technology.
In that role Andre had ultimate responsibility of organising the information systems for the 2004 National Elections.
"We had only a few months to get the information systems in place, tested and running efficiently – from August 2003 until election day in April 2004," Andre said. "Not only did we meet that tight deadline, but we also managed to do it for one-quarter of the cost of the previous system, and with twice the capacity."
"The Government saw the systems we developed for the 2004 elections as the embryo for future e-government developments in Indonesia," Andre added with a smile.
Justifiably proud of the achievement of his team, Andre explained how the system they had developed could allow election officials to "drill down" from the national levels to more than half a million individual polling booths.
"But that period wasn't without its challenges and stresses," Andre reminisced. "There were a number of influential people in Indonesia at the time who had a vested interest in not getting reliable polling data."
Andre acknowledges the support Badan Pengkajian dan Penerapan Teknologi gave him when he first started considering further studies overseas.
"BPPT was very supportive when I talked to my supervisors about applying for a scholarship, and we were really pleased with the way in which the Australia Awards scholarships were so well organised."
And even though he is satisfied and challenged in his current role of Information Technology Director for two multinational companies – Initiative Indonesia and Universal McCann Indonesia – Andre wonders if his next big step might be to start his own IT company.
That said, the biggest achievement and challenge he has met hangs on his living room wall next to his and Linda's Australian graduate degree certificates: an award from the President of Indonesia – for Andre's leadership role in ensuring effective and transparent information systems during the 2004 National Elections.
Share this article on:
Related Article

Back to Top