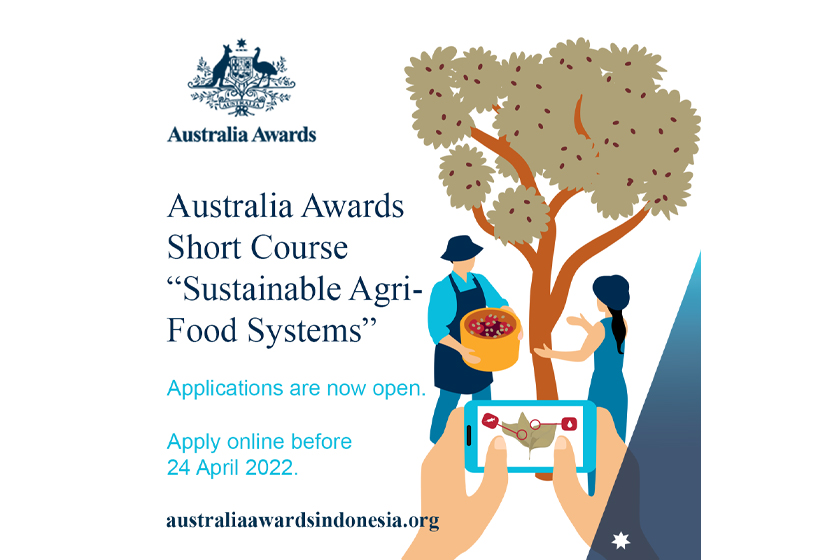 31 Mar 2022
Applications Open for the Australia Awards Short Course on Sustainable Agri-Food Systems
Do you want to explore the latest innovations and future directions in the food systems and identify the next steps to improve the sustainability of food systems? Apply now for the Australia Awards Short Course on Sustainable Agri-Food Systems!
This course aims to help the Government of Indonesia and the private sector partners follow up on commitments from the United Nations Food Systems Summit (UNFSS). It responds to the five UNFSS action tracks; ensuring access to safe and nutritious food for all, shifting to sustainable consumption patterns, boosting nature-positive production, advancing equitable livelihoods, and building resilience to vulnerabilities, shocks and stress.
The course is fully funded and offered for up to 25 participants. Women and people with disabilities are encouraged to apply. All applications MUST be submitted online by 24 April 2022 at 23.59 WIB at this link. Please visit this page or contact us via email at shortcourse@australiaawardsindonesia.org for further information about the application requirements, course schedule, and structure.
An information session will be held virtually by Australia Awards in Indonesia on 13 April at 10 AM WIB. The session aims to guide applicants on the application procedures, including the online application system, selection scheme and interview process. RSVP to attend this session before 11 April 2022 at this link.
Share this article on:
Related Article

Back to Top