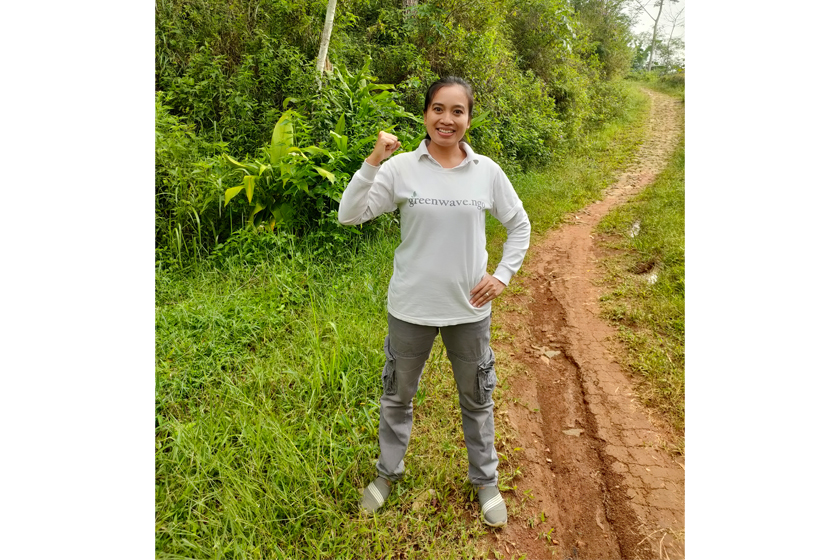 13 Apr 2022
Webri Veliana's Environmental Activism Starts with Waste Management at Home
The challenges of environmental activism can be overwhelming. Amid climate change denial, the slow pace of policy change, and ecological disasters caused by companies, individuals can feel powerless in their efforts to preserve the earth.
Activist Webri Veliana admits she feels discouraged from time to time. "The pressures are huge and they come from everywhere," she said. "But I have also found that consistency is key. The biggest challenge for me is to stay the course."
So far, being persistent has led Webri to overcome the challenges of activism. An alumna of the Australia Awards Short Course "Tackling Marine Pollution Issues through Recycling" held at Griffith University in 2019, she goes all out to help Indonesian communities lead a sustainable lifestyle.
Born in East Java's Surabaya, Webri moved to Pacitan, a town situated in the southern part of the province, and lived in Wonosidi village for elementary school and high school.
"I think seeing my mother volunteering for a humanitarian organisation then sparked something in me," she said. During a school camping trip in the last year of high school, which took place at Pacitan Bay, she promised that she would dedicate her life to the town.
After years of working in the hospitality and airline industry in Bali and Jakarta, Webri kept her promise and came back to live in Pacitan in 2016.
She fell in love with Barehan Beach and spent two hours each morning there in solitude. "It was so lovely, until the rainy season came. The spotless beach became filled with trash and I was bothered. I started to feel angry," she said.
Webri began to observe where it all came from. She roamed the nearby rivers and found trash filled them for tens of kilometers. A friend informed her that people would throw trash away on arriving to work.
"Then I got an idea to form a collective of like-minded people who wish to do something for the environment," Webri said. In December 2017, after Pacitan was hit by floods and a landslide that claimed 11 lives, she established the Greenwave NGO, a non-profit organisation focused on waste management and environmental preservation.
In March 2018, Greenwave began to collaborate with the government of Pacitan to commemorate Waste Awareness Day. Webri continued her quest by participating in the Indonesian Circular Economy Forum. One year later, she started the short course in Australia.
Before the course, Webri began to approach the villagers in Wonosidi to start practicing waste management. "Why Wonosidi? It's where I grew up and I want to do something for it," she said.
For generations, the villagers had become accustomed to burying trash in their yards. Webri said the practice was acceptable as long as the trash was organic. But modern times introduced plastic, and the habit could be dangerous.
She took the initiative to introduce waste sorting, but she immediately found that proximity played an important factor. "The villagers have known me since I was a child. Somehow my words were not taken seriously, some people looked down on me and some became annoyed," she said.
But she also found that the resistance compelled her to get creative, and the short course inspired her even more. "I introduced a waste sorting method called Greenwave," she said. "The course also made me realise that waste management is closely linked to behavioural change of a community, something that cannot be expected to come through in just six months."
Webri found that change also needs to start within the initiator. "When we try to change someone's habit that's been around for tens of years, we're obligated to shift our own mindset and invest years of our time into the endeavour. Don't expect immediate change, instead we need to be persistent," she said.
Upon coming home, Webri practiced the Waste Segregation from Households project in Wonosidi village with Greenwave. With funding from the Alumni Grant Scheme (AGS), the NGO collaborated with key stakeholders, namely the Wonosidi villagers, Griffith University, the government of Pacitan and local organisation Manggala Wonosidi.
In three months, Webri helped 64% of houses in the village sort waste from their homes to be used as recycled material. Wonosidi transformed the waste into economically valuable goods.
Webri acknowledged how the short course she took at Griffith University had benefited her efforts. "What Dr Sunil Herat said in class had stuck with me, that the course was actually the beginning of our venture," she said. "It was the start of our work on the ground, and it became a bedrock to reach our goals."
Webri has many plans for the future. In October, she will launch a book on the Greenwave method, which will introduce waste management practices based on the circular economy. There is also a plan for a mobile game to raise awareness among the younger generations on waste management and environmental concerns.
Webri said her ultimate goal was to see the 17 Sustainable Development Goals realised in villages across Indonesia, combined with their local wisdom. "Waste management is included in the goals and that is my entry point," she said.
When asked what has kept her going, she answered, "There have been countless times when I felt hopeless, but I knew it would pass. There is always a way out. Even now I know there are ideas still beyond my mind but I'll get there. I'll carry them out and I know a waste-free Indonesia can be achieved."
Photo courtesy of Webri Veliana.
Share this article on:
Related Article

Back to Top