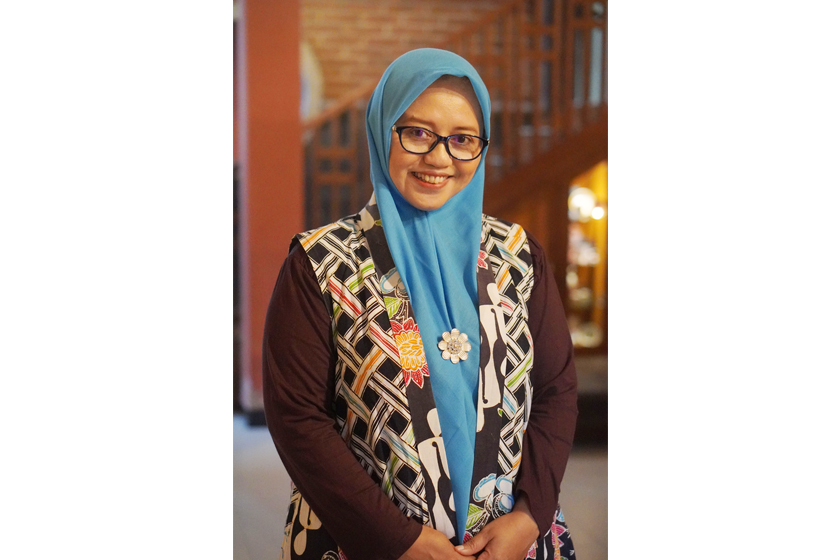 09 May 2022
Wiwin Siti Aminah Rohmawati Stands Firm in Interfaith Activism
Life has taken Wiwin Siti Aminah Rohmawati to Jordan, Kenya, the United States, Austria and China, among other places, for her work in advancing interfaith dialogue for peace. Meeting people from diverse ethnicities and cultural backgrounds is almost customary for Wiwin, an alumna of the Australia Awards Short Course "Leadership for Senior Multifaith Women Leaders" held at Deakin University in 2018.
This experience may appear in contrast with her youth. Born in 1975 into a Muslim family and living in a secluded village in West Java's West Bandung, Wiwin's childhood was built within Islamic practices and beliefs. She never met anyone other than Muslims and Sundanese people, much like herself, until the end of junior high school.
It was during her time at the Darussalam Islamic boarding school, where she studied for high school, that her world began to change. Although she was still in West Java and again surrounded by those who shared the same faith as hers, Wiwin met students from all sorts of ethnicities and places in Indonesia.
She continued her studies at Sunan Kalijaga State Islamic University in Yogyakarta, where involvement in student activities brought her to meet students from other universities and people of different religions. The May 1998 riots, triggered by economic problems and corruption, included demonstrations and religious violence that took place in Jakarta, Yogyakarta and a number of places in Central Java.
As part of the Yogyakarta Volunteer Team whose interfaith members came from various universities in the city, Wiwin visited Purworejo, where a church had been burned down. Wiwin became conscious of the lives of minority communities. "It sparked something in me. I knew this was something I had to pursue. The nation's diversity was at stake and could trigger new acts of violence due to prolonged trauma," she said.
The group later changed its name into the Komunitas Tikar Pandan (Pandanus Mat Community) and its members included Muslim university students and Catholic brothers and sisters. They would meet every Saturday night at the residence of the late Father YB Mangunwijaya, who was known for his work for the poor. "We would hold one-on-one talks with members of different religions with the sole reason of dismantling prejudice," said Wiwin.
Held in intimate and relaxed settings, the talks introduced new understanding and allowed prejudice to melt away. "I truly felt an honest and genuine interfaith friendship, and that led me to delve more into interfaith dialogue," said Wiwin, who currently acts as the Coordinator of Human Resources and Cooperation at the Institute of Southeast Asian Islam of Sunan Kalijaga State Islamic University and is a lecturer at Darussalam Islamic College in Ciamis, West Java.
The next years saw Wiwin taking part in the Yogyakarta-based interfaith organisation Interfidei and participate in seminars and workshops. A three-month course on religion studies where she learned about various religions particularly struck a chord. "Learning about the common and universal values taught by all religions would be the foundation on which we can have dialogue," said Wiwin.
In 1999, she participated in the World Conference on Religion and Peace held in Amman, Jordan, which she noted as a milestone in her activism. "It established my passion in interfaith dialogue," said Wiwin. "It made me even more certain about what (Swiss Catholic priest and theologian) Hans Küng said, that there is no peace among the religions without dialogue between the religions, and there is no peace among the nations without peace among the religions."
Afterwards, Wiwin continued her work in Interfidei and was involved in the establishment of the Indonesian Conference on Religion and Peace in 2000.
A decade later, Yogyakarta saw the rise of religious violence and it was listed in the top five of the most intolerant cities in Indonesia. Although the city housed numerous communities focused on diversity that helped to raise awareness of the matter, it was rare to see women in their key roles.
"It was not surprising, as interfaith dialogue would feature mostly male religious figures," said Wiwin. "Women were seldom involved in more public roles. There was also very limited space for women where they could feel safe, especially at the grassroots level where they could discuss social and religious issues. That's where Srili came in. We're here to provide a safe space for women to support and strengthen each other."
The Yogyakarta-based interfaith women's community Srikandi Lintas Iman, or Srili, was established in 2015 by Wiwin and a number of female colleagues, as an initiative in the King Abdullah bin Abdulaziz International Center for Interreligious and Intercultural Dialogue (KAICIID) Fellowship program. A community focused on women, harmony, diversity, dialogue and peace issues, it routinely holds meetings among its members to better understand each other, as well as meetings with religious figures in their houses of worship. Srili is now home to more than 200 members, who come from various ages, ethnicities, cultural and professional backgrounds, as well as sexual orientations.
Set on her journey of building an inclusive society, Wiwin recognised the enormous influence of participating in the short course in Australia.
"Australian female leaders including politicians, academics and interfaith activists experienced huge challenges," she recalled. "They provided insights on the importance of being leaders in local governments as well as the adversity of being leaders in a male-dominated environment."
Participants also visited organisations initiated and run by women, including the Multicultural Centre for Women's Health and the Australian Muslim Women's Centre for Human Rights, which offered a learning experience in facing domestic violence, healthcare and religion.
For Wiwin, the course offered valuable understanding on how women leaders challenge themselves to go forward and face challenges head on. "Along with crucial matters such as gender and leadership issues, the lesson that has stayed with me is the importance of mental health of women leaders and how they manage stress, as women often face multiple pressures from being working mothers."
When asked what has kept her going, she answered, "Working in interfaith dialogue has been my passion, and I can face whatever challenges that may come. I know that an interfaith movement will fail without the role of collaboration, and when there's pressure coming our way, partners will be there along the way. I never fear that this movement will fade away, for I know women will support women."
Photo courtesy of Wiwin Siti Aminah Rohmawati
Share this article on:
Related Article

Back to Top